Omni Bridgeway (US) launches its inaugural Summer Associate Program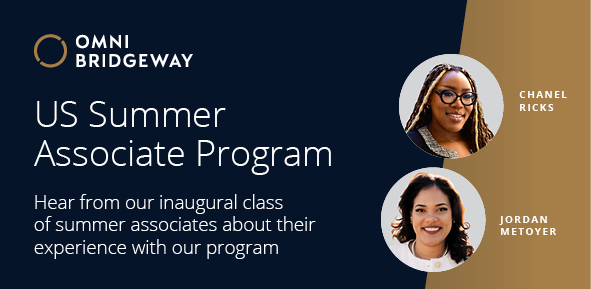 In Omni Bridgeway's view, it is never too early to learn ways to help provide access to the often cost-prohibitive US civil justice system. Even young lawyers are expected to have (or obtain) the requisite knowledge and skill to advise clients on important aspects of litigation, including how to ameliorate the risks associated with complex litigation and reduce its financial impact. Thus, understanding the role of litigation finance in the practice of law has become increasingly critical as it continues its ascent in the US legal industry.
With these important dynamics in mind, Omni Bridgeway launched its inaugural Summer Associate Program this summer. This paid internship program is designed to give exceptional law students hands-on experience in the world of litigation finance in a wide variety of matters and across all Omni Bridgeway offices. Amy Geise, head of both Omni Bridgeway's Houston Office and the Summer Associate Program, commented: "The program is an exciting new platform for Omni. Our industry is all about encouraging forward-thinking, commercial attitudes in the practice of law, and young attorneys are often quickest to embrace these ideals. It's easy to see why educating the next generation is important to the future of litigation finance."
Two interns, Jordan Metoyer and Chanel Ricks, were selected from a competitive pool of applicants to participate in a ten-week rotation through Omni's New York, Los Angeles, San Francisco, and Houston offices. Jordan is a 2022 graduate of Georgetown University Law Center who spent her summer with Omni Bridgeway prior to her upcoming clerkship at the Delaware Court of Chancery. Chanel Ricks is a rising 2L at Howard University School of Law, the oldest HBCU (Historically Black College and University) in the US.
US Managing Director and Co-Chief Investment Officer Jim Batson observed, "We couldn't have asked for better candidates for our inaugural summer program. Both Jordan and Chanel set the standard for our program as they engaged in meaningful, substantive work, kept pace with experienced attorneys, and were eager to learn about litigation finance." US Managing Director and Co-Chief Investment Officer Matt Harrison added: "We have been thrilled with the hands-on experience that both Jordan and Chanel were able to gain this summer and were impressed with how deftly they handled it. We are confident that they will use their positive experience to serve as ambassadors for our program going forward."
We were fortunate enough to pry Jordan and Chanel away from their busy post-summer schedules to discuss their respective experiences with Omni Bridgeway's Summer Associate Program.
How would you describe your internship experience with Omni Bridgeway to others?
Chanel Ricks:
Coming into my 1L Summer, I sought an internship opportunity that would provide me with real client work, the ability to explore various practice areas, and gain knowledge about the business side of the law. Since my time at Omni Bridgeway, I can definitively say this internship was in alignment with my career aspirations as well as the goals I set for myself this summer. I gained invaluable experience by shadowing the Investment Managers in client meetings and learned about the finance behind the funding via metrics and modeling—which aided in developing my knowledge about this emerging industry.
What was the most rewarding thing about working here this summer?
Jordan Metoyer:
My internship with Omni Bridgeway was one of the most rewarding professional experiences to date. While law schools teach legal doctrine and theory, there is very little attention given to the commercial and business aspect of legal disputes. Litigation funding is an important source of investment capital for both plaintiffs and defendants.
Chanel Ricks:
Given that Omni Bridgeway is a global litigation funder, I thoroughly enjoyed assisting Investment Managers, CIOs, and Legal Counsel from various countries and jurisdictions as well as having the opportunity to assist in a variety of practice areas. Of the many positive experiences in my internship, however, I found the most rewarding aspect to be the collegial, friendly, and business savvy work environment. Although this is the first summer of Omni Bridgeway's summer associate program, everyone that I met welcomed me with open arms and were enthusiastic about assisting me with anything that I needed, including guidance for law school and my legal career.
Additionally, I enjoyed seeing how business savvy a lot of the Investment Managers, CIOs, and Legal Counsel were—both within, and outside of, the workplace. My experience here has been influential on the type of work environment I hope to encounter throughout my legal career.
Tell us about any new skills, techniques, or knowledge you gained this summer.
Jordan Metoyer:
During my time at Omni Bridgeway, I conducted legal research for bespoke investment opportunities, participated in meetings with claimants and lawyers, and contributed to due diligence. I also learned how seasoned funders approached various disputes, from intellectual property to antitrust to insolvency.
I also learned very quickly why Omni Bridgeway stands out from its peers. Not only does the team consist of some of the sharpest legal minds in the field, but Omni Bridgeway takes a unique, holistic approach to funding, from case inception through post-judgment recovery.
Chanel Ricks:
I am proud to say that every project and assignment I was given this summer at Omni Bridgeway has allowed me to gain a new skill or technique, as well as deepen my knowledge. To name a few, I have had the opportunity to learn about the ethical considerations surrounding legal finance, post-judgment interest rates as it relates to judgment enforcement actions, cost assessments in Canadian court judgments, modeling and metrics for prospective litigation funding deals, the relationship between trusts and bankruptcy, and most importantly, the due diligence process that occurs when a claim is being assessed.
How did this internship match your expectations?
Jordan Metoyer:
I did not know what to expect with this internship as litigation finance is a relatively new concept, but with this internship, I witnessed first-hand the rigor with which Omni Bridgeway's investment team and investment committee approach each bespoke funding opportunity. No stone was left unturned. The team brought fact-driven analysis, creative problem-solving, and a client-driven approach to every decision.
Chanel Ricks:
Prior to my internship with Omni Bridgeway, I was not exposed to the concept of litigation funding nor was it a topic that was heavily discussed in my doctrinal courses. However, upon further research, what caught my eye was the fact that litigation funding could be instrumental in offering support to clients, companies, and law firms that seek to advance environmental and social justice in areas of the law that involve costly litigation.
Since the start of my internship, Omni Bridgeway exceeded my expectations. I experienced first-hand the positive impact that funding can have on the lives of parties that suffered civil harm. Through meetings and speaking with Investment Managers, I can see that Omni Bridgeway is striving to make an impact on environmental and social justice issues. As I proceed through my legal career, I hope to see more litigation funders develop and take a similar approach.
What are your career aspirations? How does your experience at Omni Bridgeway relate to your future career plans?
Jordan Metoyer:
The Omni Bridgeway team provided me with incredible mentors who helped me think about the law beyond the courtroom. Legal careers are long, and my time with Omni encouraged me to think about my career broadly. Most importantly, I left the internship with an appreciation for litigation funding's unique role within the legal field.
Chanel Ricks:
As a rising 2L, I am still developing my career interests, but I can say my experience this summer has helped shape my future goals.
Having the opportunity to rotate within Omni Bridgeway's US offices and being able to see the variety of work that the Investment Managers, CIOs, and Legal Counsel at Omni Bridgeway perform has had a positive impact on my future career plans. Getting a taste for the business side of the law at this stage of the game will be pivotal as my legal career advances. This internship was invaluable in that it allowed me to step outside the focus of my law school studies and see how the practice of law works in the real world.