Beyond Single Case Funding: Smart Uses for Litigation Finance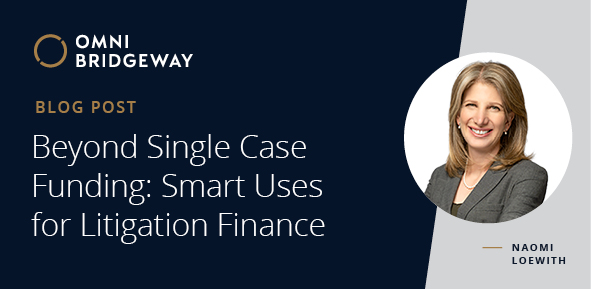 Author:

Director of Strategic Partnerships - Canada, Investment Manager and Legal Counsel - Canada
---
Across the globe, dispute finance has become an increasingly popular tool for sophisticated litigants including companies, cross-border insolvent estates and insurers. A key area of growth, however, is law firms. Many firms already use litigation funding to offer alternative fee arrangements to clients while managing risk and cash flow. For this reason, law firm financing is attractive for all types of firms, from national, full-service firms to small start-up boutiques.
Law firms often envision using dispute finance to pay for the costs of advancing specific claims, but it can also be used in a variety of ways to help firms build their reputations and expand their client base. Here are four less known ways that law firms are using dispute finance.
Monetizing Unpaid WIP
Firms often have a handful of clients who are not paying their bills when due. In some circumstances, a firm might have hundreds of thousands – if not millions – of dollars of unpaid WIP. Litigation that the firm is handling for these clients may well be suitable for funding, where Omni Bridgeway pays the past due amounts and takes over payments going forward, in exchange for a portion of the proceeds at the conclusion of the matter. Where a client is not meeting its financial obligations to the firm, it may be prudent to offer funding as a solution. Clients often appreciate being presented with an opportunity to eliminate that WIP, while the law firm receives the revenue and can continue acting in the matter.
When clients express concerns about being able to pay, or have stopped paying their invoices, it's time for a conversation about funding.
Acquiring a New Line of Business
Smart firms are always looking for ways to expand their client base and to do more work for their existing clients. Sometimes that is achieved by hiring lawyers and support staff who can offer a new line of business. Law firms can use dispute finance to obtain the capital for these new ventures. For example, a firm could recruit a group of lawyers and staff with a new specialization and use law firm dispute financing to pay for hiring bonuses, salaries and expenses until the new offering is established and profitable. Unlike bank financing or other forms or debt, law firm finance is non-recourse and paid back only when the new business generates revenue. This ensures a smooth cash flow during the expansion, while mitigating the financial risk of opening a new line of business.
If the firm has an opportunity to expand its offerings, law firm finance might be the right source of capital to make the idea a reality.
Merger Prospects
Law firm mergers are picking up pace after a quiet period during the pandemic, and they are expected to increase in the second half of 2023. In addition to having top talent and a reliable client base, firms with steady cash flow are particularly attractive as merger targets. Portfolio financing gives potential partners more certainty in a firm's anticipated revenue, while also demonstrating the firm's ability to manage risk. It is well-known that mergers are often lengthy processes with unforeseen costs. While traditional financing is a common tool used in mergers, having cash on hand from an existing portfolio arrangement to be used at the law firm's discretion, can create significant efficiencies throughout the merger process.
Law firm financing can be a valuable and distinguishing feature, making the firm more attractive to potential merger partners.
Geographic Expansion
Lawyers in firm leadership positions often identify cities which might be under-served, where the firm's experience and expertise could be valued. Establishing a new office – either organically or through an acquisition - can be financially and logistically daunting. Portfolio financing can be used to finance that growth, secured against the future fees generated by the expanded firm. This reduces the risk and cost of the geographic expansion, without requiring the firm to take on new debt.
Law firm financing can be a useful tool where a new office could help grow the firm and generate more revenue.
There are a range of smart uses for litigation financing beyond single-case funding. An experienced funder can work with a law firm to evaluate its goals, value its cases, and develop solutions that drive growth.