Why Latin America is a Growing Region of Interest for Dispute Funders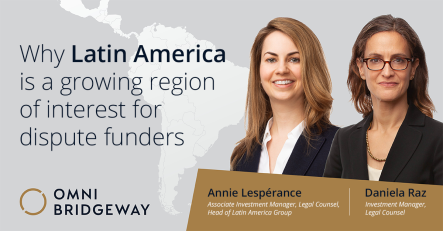 In June 2021, Lexology, Latin Lawyer, and GAR hosted a discussion assessing the growth of dispute financing in Latin America from the perspective of clients, counsel, and funders.

Moderated by Omni Bridgeway's Annie Lespérance (Head of Latin America Working Group), panellists included Daniela Raz (Investment Manager, Omni Bridgeway), Anna El-Erian (Board Chair, Gabriel Resources Ltd) and José Astigarraga (Global Chair, International Arbitration Group, Reed Smith). They discussed key aspects that counsel and companies should consider when evaluating the implications and strategic considerations of working with a dispute finance company to finance their claims.

For the panel's perspectives on a number of issues including the decision-making process around launching claims, the mechanics of dispute financing, and the unique challenges and opportunities of pursuing commercial disputes in Latin America, the event summary can be found here or watch the discussion on demand.

To learn more about Omni Bridgeway's Latin America Working Group, visit our website or contact Annie Lespérance to discuss funding solutions available to pursue claims and enforcement activities and access distressed debt solutions.
Por qué América Latina es una región de creciente interés para los financiadores de disputas
En junio de 2021, Lexology, Latin Lawyer y GAR organizaron una discusión sobre la evaluación del crecimiento del financiamiento de disputas en América Latina desde la perspectiva de los clientes, abogados y financiadores.

Moderado por Annie Lespérance de Omni Bridgeway (Directora del Grupo en América Latina), los panelistas incluyeron a Daniela Raz (Gerente de Inversiones, Omni Bridgeway), Anna El-Erian (Presidenta de la Junta, Gabriel Resources Ltd) y José Astigarraga (Presidente Global, Grupo de Arbitraje Internacional, Reed Smith). Discutieron aspectos clave que los abogados y las empresas deben considerar al evaluar las implicaciones y las consideraciones estratégicas de trabajar con una empresa de financiación de disputas para financiar sus reclamaciones.

Para conocer las perspectivas del panel sobre una serie de temas, incluido el proceso de toma de decisiones en torno al lanzamiento de reclamos, la mecánica del financiamiento de disputas y los desafíos y oportunidades únicos de perseguir disputas comerciales en América Latina, el resumen del evento se puede encontrar aquí o ver la discusión bajo demanda.

Para obtener más información sobre el Grupo en América Latina de Omni Bridgeway, visite nuestro sitio web o comuníquese con Annie Lespérance para discutir las soluciones de financiamiento disponibles para realizar reclamos y actividades de ejecución y acceder a soluciones de deuda en incumplimiento.