Global portfolio manager for IP, Sarah Tsou, discusses preserving value when funding IP litigation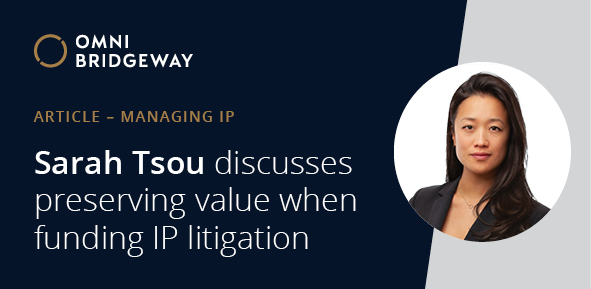 As the popularity of IP litigation funding continues to rise, law firms and in-house counsel need to develop a thorough understanding of how funders evaluate potential investments. Strong case merits and substantial estimated damages are of critical importance. But they are far from the only factors funders consider when determining whether a case will make a sound investment.
Sarah Tsou, Portfolio Manager – Global IP at Omni Bridgeway, chimes in with her significant IP expertise on this and other issues in Managing IP's recent article, "How to stop a funded IP case from Falling Apart." There, Sarah discusses ways funders identify promising IP matters and provides guidance and actionable tips for developing a successful IP litigation funding strategy.
As Sarah notes, it is particularly important to identify cases with reasonable timelines for resolution and engage counsel that will be both conscientious with the budget and share responsibility for overages. Budget overruns requiring additional cash infusions can lead to a funder taking more than its originally anticipated contractual share of the recoveries, leaving the claimant with less than it had hoped for when it entered the transaction.
Sarah also urges claimants to have realistic expectations and to beware of counsel with misaligned interests. She encourages counsel advising their clients on obtaining litigation funding to think more like a funder, judge, or mediator than an advocate, and to consider real-world factors that go beyond the merits to anticipate how cases are likely to resolve. Finally, she cautions that cases evolve over time and should be monitored diligently to confirm the investment remains sound. Of course, an experienced funder like Omni Bridgeway can help claimants and their counsel do just that.
For outside counsel looking to successfully secure funding for their clients and keep a matter on track for a successful resolution, this Managing IP article provides counsel with insight into how funders approach and monitor cases.
Learn more about legal finance here. For more information about how we can assist claimants in a variety of commercial disputes, visit our Company Insights. Or contact us for a consultation to learn about the ways Omni can help unlock the value of your meritorious claims.