Chris Citro weighs in on the disclosure debates from a funder's perspective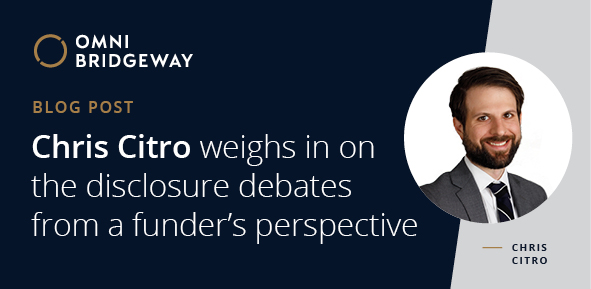 Author:

Investment Manager and Legal Counsel - United States
---
As popularity of litigation finance rises, especially in patent litigation, the opinion gap on disclosure expands. Chris Citro – investment manager and legal counsel at Omni Bridgeway – recently spoke with Managing IP on how the U.S. courts are individually approaching the level and requirements for disclosure of litigation funding. In the article, he provides insight from a funder's perspective on why a one-size-fits-all approach may not be the solution.
While some argue for uniform mandatory disclosure laws, Chris expressed his concern over the potential increase in unnecessary discovery requests by defendants trying to obtain detail on confidential information. The result would be making an already difficult and expensive process more burdensome for plaintiffs. Regardless of court orders, he also notes that with the growing acceptance of funding, we have seen more and more clients voluntarily disclose their financing, understanding it is sometimes to their benefit and can signal the strong merits of their case.
Read the article here.