IMF Class Action Conference Overview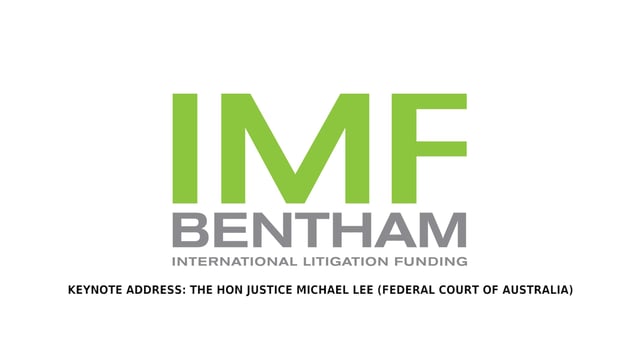 Key issues in class action litigation were debated at an important conference presented under the auspices of the IMF Bentham Class Actions Research Initiative with UNSW Law. Watch the videos from the event.
Video 1: Conference Keynote Address by The Hon Justice Lee (Federal Court of Australia)
The Hon Justice Michael Lee (Federal Court of Australia) explores the issue of whether the courts have the power to adjust litigation funders' contractual commission rates.
Video 2: CARI research "Settlement Distribution Schemes"
Cutting edge research on Settlement Distribution Schemes was presented by Associate Professor Michael Legg (UNSW Law) and Rebecca Gilsenan (Principal, Maurice Blackburn Lawyers), at the IMF Bentham Class Action Conference.
Video 3: Panel discussion "Achieving Finality to Class Action Litigation"

Class action experts came together to explore issues in finalising class actions. Panel experts included:
Hon Justice Jack Forrest (Supreme Court of Victoria); Professor Simone Degeling (UNSW Law); Bill Petrovski (William Roberts Lawyers); Jason Betts (Herbert Smith Freehills); Brett Jordan (Senior Technical Claims Advisor, Major Loss Financial Lines Claims, AIG Australia Limited), and was moderated by Wayne Attrill (IMF Bentham).