Meet Nilufar Hossain, Bentham legal counsel and international arbitration specialist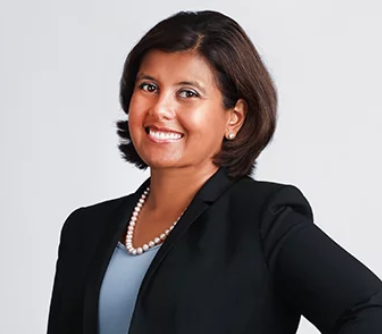 For Nilufar Hossain, a typical day in her new job as a legal counsel in Bentham IMF's New York office might mean conferring with colleagues in Australia and Hong Kong, counsel in Europe, clients in North Africa or a law firm in Washington, D.C.
"What's great about this is that I'm never operating in one jurisdiction," says Hossain. "And I get to do the fun aspects of practicing law—thinking deeply about the challenges affecting cases and working on the most cutting-edge issues."
Hossain, who joined Bentham in July, has been one of the players on the front lines of the company's recent expansion of its international disputes' capabilities. During the last year, Bentham has significantly increased its international arbitration capabilities and investments in international arbitration cases. In January, it brought aboard leading international arbitration lawyer and thought leader Dana MacGrath in New York to lead the company's international arbitration investments. MacGrath joined Bentham from Sidley Austin, where she was a partner, and is president of
ArbitralWomen
, a global nonprofit aimed at helping promote women in dispute resolution.
For Hossain, who was most recently acting general counsel of the social enterprise Pratki, Bentham's emphasis on international disputes was one of the company's attractions. She previously spent a decade specializing in international arbitration and complex commercial litigation at King & Spalding LLP and Freshfields Bruckhaus Deringer LLP.
"I feel like I've joined Bentham at a really exciting time," she says. "We're seeing more and more counsel in international arbitration really seeking out funding and doing so strategically. The opportunities for funding—particularly in the international arbitration space—seem to be growing exponentially."
Doing Diligence

A key aspect of Hossain's new role is conducting due diligence as part of the underwriting process in litigation finance deals. Bentham seeks cases for investment that are strong on the merits and that have the greatest potential for achieving a successful resolution. Extensive due diligence helps Bentham value a case and its potential for a substantial return.
Diligence can be exceptionally complex—specifically in the arbitration area—where Bentham is often considering investments in multi-billion-dollar disputes. Matters under consideration may be commercial disputes or investment disputes brought under a bilateral investment treaty.
For her part, Hossain reviews pleadings, meets with clients and law firms about the case, considers the merits of the case and pokes holes in arguments to determine the potential pitfalls in a piece of litigation or arbitration, and works closely with attorneys representing the client in a case to move the matters forward successfully.
The work meshes closely with Hossain's experience. She has represented US and foreign clients in cross-border litigation, investigations and international arbitrations in a variety of sectors, including, energy, natural resources, pharmaceuticals, technology, finance and construction disputes.
In-House Experience

In the year prior to joining Bentham, Hossain served as acting general counsel of Pratki, an enterprise which produces clean, fuel-efficient cookstoves for homes in developing areas like Haiti and South Asia. The experience, she says, added to her cross-border legal knowledge and gave her first-hand insight into the needs of in-house counsel that she can apply in her new role.
"Your budget, depending on the size of your company, might be quite limited," she says. "You're also trying to balance whether you have the skills internally to handle a matter or whether you need to go with external counsel…I understand the balancing act that in-house attorneys have to face between managing the risks internally and finding the right partners externally."
Hossain, who earned her law degree from New York University School of Law, says the litigation finance role at Bentham "felt like an exciting natural path, and Bentham had a great reputation and a truly global footprint. This was really important to me. My practice has always been cross-border–whether I've been working on commercial disputes in U.S. federal courts or international arbitration matters on behalf of clients overseas."
To learn more about litigation financing and it can help your enterprise, contact us for a consultation. And visit our Company Insights to learn about the CLE seminars we offer to companies interested in working with funders. There, you also will find our recent client podcasts, blog posts and videos.
Bentham offers financing for arbitration matters at any stage in the dispute resolution process. It can be used to finance domestic and international arbitration matters, investment treaty disputes and award enforcement. For more information, please visit our arbitration funding overview.