Dispute finance for corporates – financial and human capital benefits of working with an experienced funder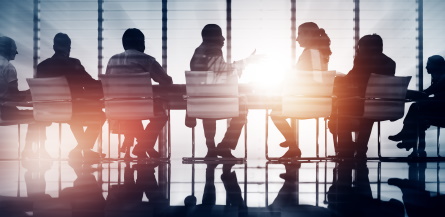 Whether a company is a large listed entity or a small not for profit charity, in-house legal teams face a number of issues if the company wants to pursue a claim. These range from budgetary constraints to fund the litigation or arbitration expenses, convincing management to take the litigation/arbitration risk, including the risk of having to pay the other side's legal costs as well as the company's own costs in the event the case is unsuccessful, and in-house legal team resourcing pressures.
In this podcast, Omni Bridgeway Investment Manager and former General Counsel of RSL NSW, Leanne Meyer, and Christian Paech, former General Counsel and Company Secretary of Australian energy company Santos Limited, discuss these challenges. Leanne and Christian chat about their respective experiences as General Counsel and some of the ways that dispute finance can assist a corporate legal department.
These include:
As a source of capital to leverage an 'asset' that may otherwise not be pursued.
Implications for a company's balance sheet and profits: By using external funding to pursue a case, legal expenses become those of the funder and not the company's, keeping them off the balance sheet. If the dispute is resolved successfully, the company can record the recovery as revenue without any reduction in cash or profits along the way.
Extensive due diligence undertaken by the funder: Partnering with an experienced funder with strong technical capabilities provides the in-house team with a fresh set of dispassionate eyes over the merits of the claim and greater confidence the claim is worth pursuing.
Relieving pressure on the in-house legal team by funder involvement in the case when requested by the company, including independent oversight of the legal strategy and litigation or arbitration expenses.
Transfer of risks to the funder: in particular, the risks of losing the case and having to pay the other side's costs in addition to the company's own costs.
Ensuring the company has the best possible counsel for the case and that it is pursued to realise the maximum possible return.
Podcast Transcript
Justin McLernon:
Hello to everyone and thanks for tuning in to Omni Bridgeway's Beyond Hourly podcast. Omni Bridgeway is one of the world's most experienced dispute funders and enforcement specialists. Our podcast series focuses on commercial disputes around the globe and innovative ways to maximize value for clients and law firms. Episodes can be found on our website, www.omnibridgeway.com as well as on iTunes, Spotify and other podcast networks. And we welcome you warmly and invite you to subscribe and leave reviews and suggestions.
My name's Justin McLernon and I'm hosting today's podcast entitled 'Dispute Finance for Corporates'. I'm an Investment Manager based in Omni Bridgeway's Perth office. And my role is to source and evaluate potential case investments and manage those which have been approved for funding through to resolution. I'm joined today by my colleague, Leanne Meyer, an Investment Manager with Omni Bridgeway based in Sydney. Prior to joining Omni Bridgeway in February 2020, Leanne was the General Counsel for RSL New South Wales, one of Australia's largest veteran's charity organisations.
Leanne and I are delighted to welcome our guest for today, Christian Paech, who joins us from Adelaide. Christian is the former General Counsel and Company Secretary of Australian energy company, Santos Limited. Santos is one of Australia's largest oil and gas producers, and is an ASX 50 company on the Australian Stock Exchange.
Today I'll be chatting with Christian and Leanne about their respective experiences as General Counsel, the priorities and challenges when a company is faced with a large dispute and some of the ways that dispute finance can assist a corporate legal department. But without further ado, Christian and Leanne, welcome to the Beyond Hourly podcast.
Christian Paech:
Thank you Justin.
Leanne Meyer:
Thanks Justin. And hi Christian.
Justin McLernon:
Hi to both of you and look, Christian, if I can start by asking you, I mentioned in the intro, you were previously the GC and Company Secretary of Santos, where I understand you worked for about nine years. Could you tell us a little about your career and experience?
Christian Paech:
Sure. Thanks Justin. I joined Santos back in 2005 and then took on the General Counsel role in about 2010. And I thoroughly enjoyed my time there. The oil and gas industry is a fascinating industry and full of challenges. And as General Counsel gives you a broad array of responsibilities and opportunities. And so lots of work in M&A, project development, contracting, and of course dispute resolution. So there was never a dull moment. And I guess the thing that struck me the most about the industry is that it is for people with deep pockets. Most things are measured in the billions, not millions. And so it certainly did seem to raise the stakes a little bit.
Justin McLernon:
Yeah, I can imagine. Thanks Christian. Perhaps Leanne also, if you could just give listeners a brief rundown of your career prior to joining Omni Bridgeway earlier this year.
Leanne Meyer:
Sure. And as you said, Justin, before joining Omni Bridgeway, I was General Counsel with RSL New South Wales, which is a not-for-profit veteran's charity. I was in that role for about two and a half years. And prior to that, I was, and always had been, a private practice commercial litigator. I spent about 15 years with Gilbert + Tobin and nearly four years at Baker McKenzie in each of their respective disputes teams.
Just listening to Christian introduce himself and talk about his career and his role with Santos, it strikes me that, on the face of it, you could perhaps not get two more diametrically opposed corporate profiles. I certainly wasn't talking in the billions and unfortunately and regrettably, I guess for a charity, deep pockets was not a thing that we experienced. Look, in light of that, we're talking from ASX listed oil and gas company to a 100 year old member organisation and registered veterans charity on the other. It's going to be really interesting, I think, to explore not only the obvious differences, but I suspect also the similarities regardless of the entity size and stature, in terms of the priorities and challenges, which in-house legal teams invariably face in delivering outcomes for their organisation with increasingly tight budgetary constraints.
Justin McLernon:
Indeed. Now look, I'm looking forward to that, Leanne. Okay. So Leanne, just before we launch into today's topic, for those listeners who might not be very familiar with the concept and the process of dispute finance, perhaps you could just briefly explain how it works.
Leanne Meyer:
So in general terms, dispute finance or litigation funding, and I should just say we use those terms interchangeably, is a non-recourse source of funding, which can be used by any business or entity with a potential legal claim which it's looking to pursue. Pursuing a claim, a legal claim, obviously brings with it the inevitable prospect of incurring legal costs and disbursements, which are often significant over the life of a claim.
So when a matter is funded, a third-party funder pays the legal costs and disbursements throughout the life of the claim. The third party funder then recoups the costs and disbursements and receives a return on its investment, which is the outlay of costs and disbursements, but only in the event that there is a successful outcome in the proceeding or the claim. If a dispute or a matter is not successful, then the third party funder doesn't receive any return on its invested capital and nor does it recoup the costs and disbursements which it has paid. So hence the descriptor non-recourse. In addition to the direct financial outlay of costs and disbursements over the course of a funded matter, a third party funder often takes on the risk, usually takes on the risk, of an adverse costs order in the event that a matter's unsuccessful. And it takes on the responsibility of meeting any adverse costs order.
Justin McLernon:
Terrific, thanks Leanne. And perhaps turning to you, Christian, as General Counsel for a large energy company, your responsibilities were, no doubt, many and varied. What were some of the main challenges that you and your legal team confronted when the company would become involved in a large commercial dispute?
Christian Paech:
No question that large scale litigation is probably at the top of the tree. It's costly and it's distracting. And for non-lawyers and, in fact, for lawyers as well, often the whole process is seen as arcane and frustrating and so something that everyone really wants to avoid. The difficulty I find as General Counsel is sometimes when you have a claim against someone, it might have a strong commercial merit and might actually be a great return on the investment or the cost of it, but no-one is really interested in pursuing it. Often, by the time the litigation comes around, the money's been spent, it's been lost and there's no real expectation of necessarily recovering it. And that's why litigation funding has a part to play in that discussion and change of perception.
Justin McLernon:
And so, Christian, given there are such, I guess, competing considerations, how does the in-house legal team then, and I guess the next layer being management, cut through all of that to determine whether a claim ought to be pursued or ought not be pursued?
Christian Paech:
That's really getting close to the heart of it, Justin. What we tried to do at Santos as a legal group was speak in the language of the business and draw the analogy with exploration risk and decisions around drilling exploration wells. Ultimately, it's a risk assessment process where you need to have a really close appraisal of the technical merits and the risks and put in place whatever measures you can to reduce the risks and increase the chances of success. And so litigation is actually very much like that. There's obviously the technical merits of the claim. So you need to get lawyers involved to give you a really good assessment of the prospects of winning or losing. But also, on the risk management side, you can certainly manage the downside risk of costs, as Leanne described, in the way claims can be litigation funded these days. And that really assists and helps the board and management get comfortable with the decision, where they can see the upside potential, but the downside financial risk, at least, is well managed.
Justin McLernon:
Thanks Christian. It's probably a good time to ask you then, Leanne, reflecting on those various issues that Christian has just mentioned, it seems there's no doubt that in-house legal teams are under quite a bit of pressure to do more with less. And their predicament is probably even made more challenging in the current environment created by COVID-19. How can dispute finance then be of assistance to a company like Santos or other companies that have these meritorious claims that they may or may not pursue absent funding and assistance from a third party funder?
Leanne Meyer:
Look, I think the thing that Christian just said that really stuck out for me was that as General Counsel leading his team, the team had to try and speak in the language of the business. That is, I think, given that legal teams are traditionally and in fact generally cost centres, that's a really tricky thing to do. Getting a seat at the table for an in-house legal function, adding value, driving revenue. And, as Christian said, speaking in the language of the business is really tricky.
The best way to understand how dispute financing can help meet the overall corporate challenges that Christian's identified is perhaps if we can just to take a really quick look, a run down, at the negative way that litigation costs and expenses are accounted for in a company's financial statements, because that's where that downside cost, adverse cost, risk always seems to put a halt on the company's appetite to run meritorious claims. And that's because the litigation claim can't be recognised as an asset in the accounting sense. Accounting rules dictate that claims can't be recorded as assets on the company's balance sheets and the legal expenses, though, run through the company's P&L. So…
Justin McLernon:
So it's a double whammy almost, isn't it?
Leanne Meyer:
It is absolutely that. And not only is it a double whammy, it's a double whammy that continues to be painful for the course of the litigation, which can be for three to five years. But what dispute finance does, in this context, is allow the claims to be pursued without having to bear the traditional burden of the costs, the downward drag on the company's P&L and the financial performance, because the legal expenses for the prolonged period of time are someone else's costs. So they're off the company's P&L.
And then, in the event of a successful outcome, the company retains a big chunk of financial upside in the receipt of a judgment or a settlement, which then shows as an extraordinary profit. And thirdly, and we've talked about this before today, the company lays off the significant risk of loss and adverse costs exposure that it would usually incur. So, conversely to what we just said, what you get if you put all of these principles together is, in fact, a win-win. You get legal expenses being someone else's expenses, the downward drag effect is avoided, and there is still, in a case that meets with success, exceptional profit at the end.
Justin McLernon:
Understood. And during your time as a GC, Leanne, I'm sure your in-house legal team would have encountered these types of resourcing and budgetary difficulties. But, in addition to just, I guess, simply putting up the money to pay for the costs associated with running the dispute, whether that be just the upfront cost and/or including the adverse costs, risk coverage, what else can dispute finance and, I guess, developing and maintaining a relationship with a third party funder, offer to in-house legal teams?
Leanne Meyer:
I'll just pause there to say, I think this is where we go full circle and we get back to that point I made earlier about the fact that I think, absent a few zeros on the end of the bottom line and absence size of teams, this is where I think Christian's experience and the not-for-profit experience probably dovetail, because I think the benefits are by and large going to be the same regardless. And those benefits are... so dispute finance brings to an in-house legal team the tools to address the traditional reticence of management to pursue claims. So I've talked quite a bit about laying off of the risk of adverse costs, but it allows a legal team to go to the executive table and say, "we have an asset within our purview. It is a valuable claim and there is revenue to be realised or generated."
We can pursue that revenue if we use dispute finance, because we are not going to dip into the company's cash reserves. Moreover, we're not actually going to have to dip into the company's human resources or reserves. The legal team, the in-house legal team, working with a funder remains free, relatively speaking, to continue to focus its efforts on the company's business as usual legal matters, because what a funder brings, the non-financial benefit of a funder if you like, is human legal capital in terms or in the form of experienced commercial litigators as investment managers who become involved in due diligence, extensive due diligence, case merits reviews. So it's a second opinion along the way, all the way. Ongoing legal project and cost management input. Which again, leaves the legal in-house team freed up to continue to do all the other matters that the company continues to press firmly the legal team to manage and ensure continues.
And then, the other thing I would say is that what funding invariably also can mean, is that the company, which it may not be able to do absent funding, can afford to go out and arm itself with top tier external legal counsel, which is always going to be an upside or of benefit as an issue to take to the executive table. So funding all in all is an attractive proposition, I think, for in-house legal teams who are trying to continually do more with less and make a contribution to a robust balance sheet.
Justin McLernon:
Absolutely. Thanks Leanne. And Christian, the market for dispute finance has certainly matured into a pretty sophisticated and competitive industry which, I guess, is of course a real positive for the consumers of these services. So, let's say you're in a position where you've made the decision to engage a third party funder, that's got the board's approval. So now you're out there looking for, ok, who do we want to use to assist us to provide the capital which includes, as Leanne mentioned just before, the human legal capital, who do we want to use for this project? What sorts of things will you most be interested in when you're making that decision to shortlist and ultimately select a funder?
Christian Paech:
Sure Justin. I think there's probably two main things and I really want to pick up a couple of points that Leanne made as she had really good list of why litigation funding makes sense for a corporation and certainly for their in-house legal team. But one of the key points that Leanne made that I really strongly agree with is that due diligence aspect that litigation funding will bring. It's a fresh set of dispassionate eyes over your claim. Often there is a lot of emotion attached to litigation. And so getting an experienced litigation funder that has a strong technical capability, that's my first point, really strong technical capability to appraise the merits of your claim is really important. And it gives you also a lot of confidence as an organisation and as a legal team that you've got a claim that's worth pursuing.
And the converse of that, I suppose, is that when the counterparty to your litigation sees that you have been able to secure litigation funding, particularly if it's a major matter, will also give them pause for thought as to firstly how serious you are about pursuing the claim and how strong the merits are. So I think that appraisal, I think Leanne described it as upfront and ongoing appraisal of the merits, is so important. So technical capability of the litigation funder is in my perspective even more important than maybe the other characteristic that I was going to mention, which is they have access to capital markets. And of course that's important because that goes to their ability to provide you with a good set of commercial terms upon which to proceed with the arrangement. While the commercial terms are really important, particularly from the business and management's point of view, I still see it as probably secondary to the technical capabilities of the litigation management. But both are very important and are the main characteristics when seeking to engage with a litigation funder.
Justin McLernon:
Thanks Christian. And I guess for those of our listeners who are currently in in-house legal teams, who perhaps haven't previously spoken with, or utilised the services of a third party funder, are there any particular tips that you think would be worth imparting to them in that regard?
Christian Paech:
Certainly. The most important thing is to get an early engagement and to see it as a partnership. The early engagement is so important because, just to go back on what I said previously, it really helps to develop confidence in the claim as to whether it's with pursuing and having that fresh set of eyes. And also, you can draw on the experience of the litigation funder to design and structure your claim in a way that sort of avoids the pitfalls down the track, particularly procedural ones that, as an in-house legal team and one that's not as familiar with the litigation process, you might otherwise miss. So early engagement is definitely the number one tip, and really to see it as a collaborative process to work together. And I think if you do that, you're going to get a fantastic outcome.
Justin McLernon:
I absolutely agree with those last comments. Well, that concludes our episode for today. Thanks very much to our guest, Christian Paech, and my colleague Leanne Meyer for joining us. You can access a transcript of today's podcast on our website blog page.
As I mentioned during the introduction, episodes of Omni Bridgeway's Beyond Hourly Podcast can be found on our website, www.omnibridgeway.com as well as through iTunes, Spotify and other podcast networks. And I invite you to subscribe and leave us your reviews. If you're interested in exploring third party dispute finance and would like to get in touch, please feel free to contact me at
[email protected]
or Leanne Meyer at
[email protected]
. Our phone numbers and other contact details are on the website. We'll be back soon with another episode. And until then, thanks for listening and goodbye.