Why royalty disputes rein in mining-related commercial litigation and arbitration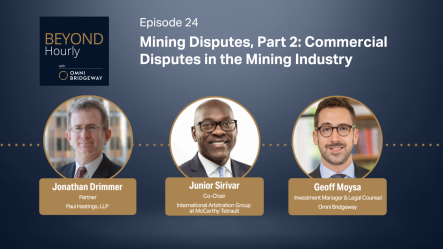 Royalty agreements for mining projects are often ripe for litigation and arbitration, as they tend to extend for long periods and may involve multiple owners over time. And for lawyers focused on the mining industry, disputes over royalties have become one of the most common types of cases they handle.
The nature of these disputes, how they work, and why they are so common are among the key issues Geoff Moysa, an investment manager and legal counsel based in Omni Bridgeway's Toronto office, explores in the second of a two-part episode on mining industry disputes for the Beyond Hourly podcast.
Moysa, a former litigation and arbitration partner at McMillan LLP who assesses investment opportunities in the mining space for Omni Bridgeway, discusses the latest trends in mining-related litigation, particularly downstream commercial disputes. (Part one focused on upstream mining disputes and international arbitration.)
Joining Moysa are two lawyers with deep experience in mining industry-related litigation and arbitration cases, Junior Sirivar and Jon Drimmer. Sirivar is a partner in McCarthy Tetrault's Litigation Group in Toronto and co-chairs the firm's International Arbitration Group. He is also a member of the firm's Global Mining Litigation Practice Group and holds a certificate in Mining Law from Osgoode Hall Law School.
Drimmer is a partner in the Investigations and White Collar Defense practice at Paul Hastings. Based in the firm's Washington, D.C. office, Drimmer is an international expert on anti-corruption in business and human rights. He also served as a deputy general counsel and chief compliance officer of Barrick Gold, one of the world's largest mining companies.
Among the issues they explore in this episode:
Why mining-related royalty disputes are outpacing other types of business disputes.
The likelihood of such disputes being resolved early or moving on to full adjudication.
The landscape for royalty agreements and whether their structures are being influenced by the increase in the number of royalty-related disputes.
How the rise of mining royalty businesses, which specialize in assessing and purchasing royalties, may be affecting the volume of royalty-related litigation.
Elements of a typical royalty arbitration, including the nature of the record and whether experts are a necessity in most cases.
COVID-19's impact on the litigation outlook for the extractive industries.
The current driving factors behind mergers and acquisitions in the mining sector and whether disputes arising from securities-related activities are on the rise.
The securities class action landscape in Canada and the effect of recent amendments to the Class Proceedings Act on those cases.
Listen to this podcast episode here.
To learn more about Omni Bridgeway's litigation funding capabilities, visit our Company Insights. While there, explore our recent podcasts, blog posts, and videos. Or contact us for a consultation to learn more about the ways we can help you pursue meritorious claims.