Omni Bridgeway reaches several significant milestones in 2021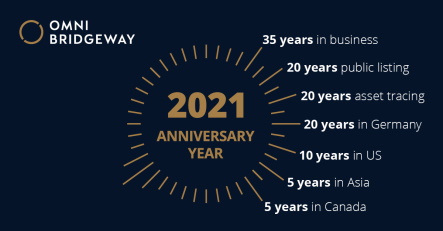 Since 1986, Omni Bridgeway has established a record of financing disputes and enforcement proceedings and 2021 marks numerous anniversaries that reflect decades of delivering results for clients. This year, we celebrate our 35th year in business and are proudly observing several milestones, including our 20th year as a public company listed on the Australian Stock Exchange (ASX:OBL) as well as the 20th anniversary of our company's asset tracing services and the start of our business in Germany. In North America, we celebrate the launch of our U.S. operations ten years ago and expansion into Canada five years ago. In Asia, we observe the fifth anniversary of our first office in the region.
As a pioneer and global leader in financing and managing legal risks, these steps in our growth are important for us as a company as they demonstrate just how far the litigation finance industry—and the legal and business communities we serve—have come in the last 35 years.
Twenty years as a public company
Transparency has long been one of our core values. As a publicly listed company on the ASX, we responsibly invest in claims and are open about our financial results and available capital. By doing so, we have helped prove the sustainability of the industry we pioneered. Omni Bridgeway has demonstrated that a public company can make the legal system more accessible to a broader array of claimants, law firms, and companies by providing capital collateralized by the future proceeds of meritorious legal proceedings. From a public policy standpoint, this means access to justice can be possible not just for well-resourced claimants, but for all parties with meritorious claims arising in large commercial lawsuits and international arbitral matters or for those seeking to monetize awards or enforce judgments.
Asset-tracing services
Locating assets to enforce a judgment are critical components of the litigation process towards ensuring a defendant can be persuaded to pay. This had been a crucial part of our business during the nineties, but the development of dedicated intelligence capabilities to further professionalize the practice was recognized as an important prerequisite to remain the market leader. In 2001, Raymond van Hulst, a banker, and Wieger Wielinga, a litigation and insolvency lawyer with a history in the military intelligence service of the Royal Dutch Army, started with the development of these capabilities for Omni Bridgeway (then called Omni Whittington and renamed in 2006), first from their office in Van Hulst's home in the Netherlands and soon moving to an office along the Prinsengracht canal in Amsterdam. With a strong focus on IT and database management, Van Hulst and Wielinga began integrating state-of-the-art asset-tracing and case relevant intelligence-gathering capabilities with our existing legal multi-jurisdictional asset recovery expertise.
In the following period, Van Hulst, Wielinga and the enforcement specialist Jurriaan Braat became shareholders and managers of the business. Wielinga and Braat are now our Managing Directors for Enforcement & EMEA, and Van Hulst is Executive Director and Managing Director for EMEA.
Now, Omni Bridgeway deploys a team of in-house asset tracers and researchers—each with over 10 years of hands-on experience—who focus on asset identification, quantum assessments, and litigation support providing crucial intelligence and expertise to execute enforcement strategies and achieve recoveries. Our asset tracing is enhanced by a proprietary knowledge base built upon decades of experience in both civil and common law jurisdictions. We rely upon a global network of lawyers, business intelligence, economic, and industry-specific experts to assist with complex, cross-border claim recoveries.
Growth in Germany
Omni Bridgeway's business in Germany was first established in 2001 as a subsidiary of a large legal insurance provider and acquired by our company in 2017. With 20 years of experience, our team has deep roots in the market and has built strong relationships with the legal community.
Historically, we funded smaller and mid-sized cases for individuals and companies looking to access justice, especially in in specialized areas like medical malpractice, capital markets, and inheritance law. Building upon this experience, we are now focusing on financing high-value cases, including collective redress actions, antitrust, arbitration matters, and litigation financing for companies.
It is an approach that aligns with a developing market for litigation funding in Germany, where the volume and scope of cases is expected to grow significantly in the years ahead. Factors for anticipated growth include Germany being the fourth-largest economy in the world and a leading exporter. Coupled with a recent European Union directive that could allow consumers to file class actions in the near future, litigation finance in Germany will likely become essential in facilitating access to justice. (To learn more about the impact of the directive on the German litigation market, watch the recording of our recent panel discussion.)
Entering the United States
Omni Bridgeway's expansion to the United States in 2011 was a natural outgrowth of successfully funded cases in North America from abroad. With demand growing and barriers to financing falling, we launched our first North American office in New York City (formerly known as "Bentham IMF"). Initially, like other funders operating in the region at the time, our primary focus was on single-case investments in commercial litigation. Soon, we broadened our scope to assist law firms and corporations in financing portfolios of litigation. In a special anniversary episode of Omni Bridgeway's Beyond Hourly podcast, featuring U.S. CIO Allison K. Chock and Paul Rand, CIO of Canada, Allison indicated that the trend towards portfolio financing is one that has grown across the funding industry.
Chock herself has experienced the rapid growth of financing in North America: She joined the company less than two years after it entered the United States, and the company launched its now-thriving Los Angeles office upon her arrival. As adoption of litigation finance has grown, so has Omni Bridgeway's U.S. footprint. We have added offices in San Francisco and Houston and our U.S. team now includes several professionals with specialized expertise across a range of practice areas.
The move into the United States, the rise of portfolio financing, and the subsequent growth of our operations in North America has coincided with a significant increase in the size of our investments. When we launched in the United States in 2011, a USD $15 million investment was our largest in the global history of the company. Now, investments of that size and larger are fairly commonplace. As Chock notes in the Beyond Hourly podcast, the growing acceptance of litigation finance by larger companies and law firms—both of which tend to handle larger-scale disputes—has fueled demand for larger legal financing deals in the country.
Expanding into Canada
Moving into Canada as the first international funder to open offices in the country was an attractive proposition for Omni Bridgeway. Canada is an environment with many cultural and economic similarities to Australia—a jurisdiction where the company had enjoyed decades of success—Paul Rand observed in the Beyond Hourly podcast. He also found Canadian legal and business leaders were operating in a cost-intensive legal market, and thus were receptive to a financier that could provide capital to help advance their legal strategies. And at the start of this anniversary year, the Canadian business achieved success before Canada's highest court, the Supreme Court of Canada, in a decision where our litigation funding arrangement was approved in the context of an insolvency proceeding.
Since the company opened its first Canadian office in Toronto in 2016, interest in funding has grown in a similar fashion to what happened in the United States. Single-case financing deals have evolved into more sophisticated structures, including portfolio financing and claims monetization.
Well-resourced companies have also taken a greater interest in the use of dispute financing as a strategic tool. Rather than financing litigation off their own balance sheets, more businesses look to find value and revenue pursuing claims funded by Omni Bridgeway, and by doing so, enjoy enhanced budget certainty. And because Canada is a cost-shifting jurisdiction, clients are using our funding solutions as a backstop against adverse cost awards as well.
Meeting demand in Asia
Omni Bridgeway has long had clients in Asia, and in 2016, as demand grew among our clients in the region for our enforcement and recovery solutions, we opened our first office in Singapore. The timing was right for funding opportunities as well. As we opened our office, new legislation facilitating funding for parties engaged in international arbitration was being approved by officials in Singapore and in Hong Kong.
In the five years since we launched our first office in the Asia sector, we have seen exponential growth in demand across the region, with clients and investment opportunities not only from Singapore and Hong Kong but from South Korea, Japan, China, India, and across Southeast Asia. Now, the combined Omni Bridgeway team in Singapore and Hong Kong, led by Asia CIO Tom Glasgow, consists of eight investment professionals covering the full dispute lifecycle across the region's civil and common law jurisdictions.
Global footprint
Much has changed in the litigation finance industry and for Omni Bridgeway during the last 35 years. We are proud to be a leader in the industry. We field funding inquiries and investments across 100+ countries and possess capabilities to assess investments and enforcement opportunities arising in nearly every region, including Africa, Asia, Australia, Canada, Europe, Latin America, the Middle East, the United Kingdom, and the United States.
For more information about Omni Bridgeway's legal finance capabilities, visit our Company Insights. While there, explore our recent podcasts, blog posts, and videos. Or contact us for a consultation to learn more about the ways we can help you pursue meritorious claims.