How antitrust cases can thrive with commercial litigation financing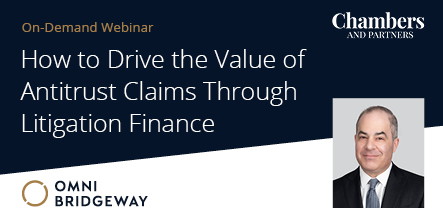 Large-scale antitrust litigation is notorious for its complexity, duration, and cost. It routinely involves extensive discovery, expensive expert testimony, and specialized outside counsel.
While these qualities might give a claimant pause, they also make antitrust cases superb candidates for dispute financing. Funding ameliorates the financial and duration risk inherent in protracted antitrust litigation. It can also help strengthen corporate claims and enhance settlement value. Parties working with an experienced commercial litigation finance company gain a trusted partner that can add value in terms of initial case evaluation and insights as the litigation proceeds.
To explore the ways dispute funding can be deployed to finance meritorious antitrust claims, Omni Bridgeway conducted a webinar with a panel including a litigation funder and seasoned counsel:
David Kesselman, partner at Kesselman, Brantly & Stockinger, who provides antitrust counseling and compliance advice to corporations. Kesselman has a long history representing plaintiffs and defendants in complex antitrust litigation matters.
Bonnie Lau, partner at Morrison & Foerster, an antitrust litigator who helps clients navigate internal and government antitrust investigations, enforcement proceedings, and class action litigation in federal and state courts.
Jason Levine, investment manager and legal counsel at Omni Bridgeway, who is responsible for leading the company's antitrust litigation initiative and heads the company's Washington D.C. office. Levine is a former litigation partner at Alston & Bird, Vinson & Elkins, and McDermott Will & Emery.
Priyanka Timblo, partner at Holwell Shuster & Goldberg LLP, a trial lawyer who represents clients in high-stakes commercial litigation and arbitration. Previously (and during the recording of this webinar), she was an associate investment manager and legal counsel at Omni Bridgeway, where she provided legal advice on matters of US law, with a focus in antitrust cases.
HOW ANTITRUST CASES DIFFER
Omni Bridgeway's Levine, who led the discussion, said antitrust lawsuits are distinct from other types of commercial litigation in at least four ways: complexity, duration, cost, and the size of damages. Damages can be larger because most antitrust regimes provide for treble damages for successful plaintiffs. Because of these factors, cases require extensive specialized counsel and expert testimony, often on multiple issues in a single case.
Antitrust cases also settle at "a remarkably high rate—more than 90% of the time," Levine said. This is true, he added, in class actions and large, multi-district litigation, as well as for single plaintiff cases where one company alleges restraint of trade, price-fixing, monopolization, unfair competition, or some other violation of the antitrust laws.
"These attributes of antitrust cases make them an excellent fit for commercial litigation financing arrangements—particularly for corporate plaintiffs when they either opt out of a class action or file cases on their own as plaintiffs," Levine said.
Litigation financing for antitrust claims is provided by commercial funders like Omni Bridgeway to either the plaintiff or to a law firm. Funding pays for legal fees, costs, or both. The funder receives a return on its investment from a successful resolution of the lawsuit. Funding is non-recourse. "If a lawsuit doesn't succeed, then the funder doesn't get repaid," Levine said. "So in essence, the funder pays the legal fees and costs, and it takes the financial risk of a loss in exchange for the potential benefit of participating in the upside if there's a successful resolution."
FUNDING MODELS
Priyanka Timblo described different types of funding arrangements for antitrust plaintiffs. Beyond the single case funding model, Omni also offers "cost-only funding," Timblo said. "Because antitrust suits may be won or lost on the strength of expert testimony, a claimant will not want to skimp on hiring the best possible experts for a case… In this way, a law firm can take legal fees on contingency, and the litigation funder can advance the costs of experts. This provides claimants and the lawyers with the comfort of knowing that they can spend what it takes to develop what is often the most important evidence in the case."
Another model, claims monetization, involves extending working capital to claimants who have a meritorious claim that is likely to prevail, but who may face immediate liquidity needs. Without assistance from a funder, the claimant facing financial pressures may be tempted to accept a lowball settlement. "A litigation funder can advance working capital against the future value of the claims," Timblo said. "Their liquidity problem is solved, and the lawyers…can eventually achieve a settlement whose value is commensurate with the actual value of the claims."
ANOTHER SET OF EYES
The panel also outlined the consultative and advisory benefits of working with funders. Omni Bridgeway's team is staffed by litigation experts, many of whom have worked on antitrust matters when they practiced law. Antitrust claimants and counsel, Timblo said, can "get a gut check on different strategic calls, or just get [the Omni Bridgeway team's] take on what they might have experienced when they were practicing." Funders also can connect parties with specialized experts and consultants from around the globe, Timblo said.
The full webinar, "How to Drive the Value of Antitrust Claims Through Litigation Finance," can be accessed on demand with registration. It is one of a series of dispute finance and litigation-related topics created by Omni Bridgeway and hosted by Chambers Events.
Learn more about legal finance here and for more information about how we can assist claimants in a variety of commercial disputes, visit our Company Insights. Or contact us for a consultation to learn about the ways we can help unlock the value of your meritorious claims.