Omni Bridgeway on "The State of Dispute Funding" in Latin America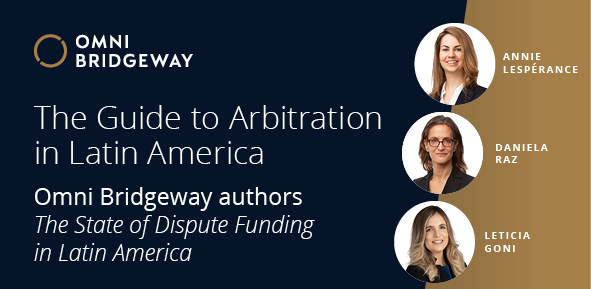 The growth of the legal finance industry in the United States and Canada has reached the borders of Latin America. The adoption of dispute finance as an alternative fee arrangement that helps mitigate risk for law firms and companies embroiled in cross-border litigation is growing in use and popularity in the region.
For arbitration practitioners interested in understanding how to apply legal finance in Latin American jurisdictions such as Brazil, Peru, and Mexico—among others—Omni Bridgeway's Annie Lespérance, Daniela Raz, and Leticia Goñi give an analysis on the "State of Dispute Funding" in the First Edition of the Guide to Arbitration in Latin America, consisting of:
The legal framework governing dispute funding in Latin America, including a brief look at the limitation to the transfer of litigious rights, protection against usury interest rates, professional conduct laws, and disclosure obligations;
The current standing of the legal finance market in the region;
Factors to consider when selecting a funder; and
The criteria typically considered by funders when looking at a potential funding investment.
Learn more about legal finance here and for more information about how we can assist claimants in a variety of commercial disputes, visit our Company Insights. Or contact us for a consultation to learn about the ways we can help unlock the value of your meritorious claims.