Litigation Funding in Canada: Five Facts Law Firms and Corporations Need to Know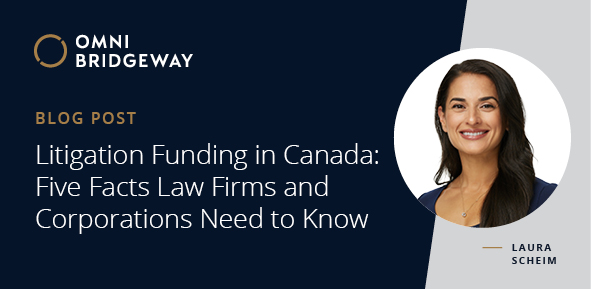 Author:

Associate Investment Manager and Legal Counsel - Canada
---
Well over a decade ago, the Canadian courts broadened claimants' access to the legal system by allowing a third party to provide non-recourse funding in a commercial lawsuit.

Since then, a significant number of parties throughout Canada have used funding to help them afford top-calibre lawyers, control litigation costs, and manage overall risk.
Despite this track record, litigation funding remains a somewhat misunderstood and underutilized tool in Canada. Here are 5 facts that are helpful to understand Canada's litigation financing landscape.
Litigation funding is non-recourse capital.
Commercial litigation finance is non-recourse, which means there is no absolute obligation to repay the principal, there is no guaranteed return on investment and the only collateral securing the cash advance is the proceeds (if any) from the claim being funded. In other words, funders are repaid the sums advanced and receive a return on their investment if and only if the case they are investing in succeeds.
Majority of funding agreements are private commercial arrangements.
It is only in the class action and insolvency contexts that litigation funding agreements must be court-approved, and they have been regularly approved by courts, including the Supreme Court of Canada. In Bluberi[1], the Supreme Court affirmed the decision by an insolvency court to approve a litigation finance agreement (with Omni Bridgeway, then known as Bentham IMF) as interim financing for an insolvent company and recognized that litigation can be a "pot of gold" from which funding can help claimants retrieve value.
Litigation financing has numerous applications.
Global litigation funders are strategic partners with legal and financial expertise. They advise companies on ways to pursue valid legal claims without it coming at the expense of running their business. This also includes purchasing claims, enforcing judgments, or advancing working capital secured against litigation.
Companies use litigation funding as a strategic financial tool.
Litigation funding is not only used by impecunious plaintiffs for David v. Goliath type matters. Many of our clients are well-capitalized companies that use legal financing to remove litigation expenses from their balance sheets and deploy those resources to other parts of the business. If a company would not use its own capital to build a building or buy a business, why should they use it to litigate?
Large firms use litigation funding to mitigate risk.
Sophisticated commercial clients expect their go-to law firms to keep their business interests in mind when advising on their legal issues. Litigation funders provide the country's biggest law firms with creative financing options when their clients seek alternative fee or risk sharing arrangements to pursue litigation.
The litigation funding industry has benefitted from over a decade of practical use by law firms and companies, and it continues to evolve in its applicability across industries and types of claims. Particularly with the exponential growth of litigation costs, it is crucial for businesses to understand how financing can broaden their access to the Canadian legal system. Omni Bridgeway can help answer your questions as you look to innovate and control costs.

Learn more about legal finance or for information about how we can assist claimants in a variety of commercial disputes, visit our Company Insights and contact us for a consultation to learn about the ways Omni Bridgeway can help unlock the value of your meritorious claims.
[1] 9354-9186 Québec Inc. v. Callidus Capital Corp., 2020 SCC 10.