Meet the Team: Spotlight on Jim Batson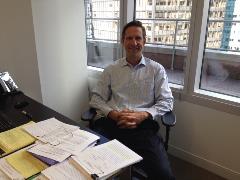 Bentham IMF welcomes the newest member to its U.S. team, Jim Batson. Jim is a seasoned litigator with over 20 years experience in federal and state courts, in arbitration, and in regulatory proceedings. He is a nationally recognized expert in e-discovery, serving as plaintiff's counsel in the precedent-setting e-discovery case of
Zubulake vs. UBS Warburg.
In addition to trial experience, Jim brings litigation funding experience to Bentham. Prior to joining Bentham, he was Chief Operating Officer at Fulbrook Capital Management, Ltd. and consulted for Lumius Capital LLC.
Jim received a B.A. in Economics and English from Cornell University and his J.D. and M.B.A. from Fordham University. While obtaining his J.D. at Fordham, Jim was on the Moot Court team, was a finalist at the Mulligan Moot Court competition, was on the Environmental Law Journal, and served as a judicial extern for the Hon. Diane Lebedeff of the New York State Supreme Court.
What you didn't know about Jim is that he is a superb athlete. He was the captain of the Cornell crew team and a US Nationals silver medalist. He was one of twenty rowers who were invited to the US National Selection Camp and made it to the final sixteen.
If Jim looks familiar to you, you may recognize him from his appearances on CNBC and CNN as a commentator on various legal issues.
Jim lives with his wife and three young children in Darien, CT. where he coaches Little League baseball.