IMF launches Shareholder Class Action Portal "My IMF"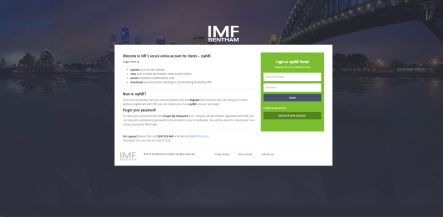 IMF Bentham Ltd (IMF), Australia's leading shareholder class action funder, is pleased to announce the launch of its secure online client portal, My IMF.
My IMF enables IMF's shareholder class action clients to access information about their claims, including details relating to:
the progress of class action claims they are currently participating in;
historic class actions they have participated in;
the estimated losses suffered by clients in each case, down to fund level;
the total amount of compensation received in respect of resolved cases;
the client's trading activity for each claim;
all case updates sent by IMF in respect of each claim; and
the client's contact information (and provides the client with the ability to update this information);
IMF's new My IMF portal is a secure online service, accessible only by registered clients. My IMF was developed in response to requests for real time access to claim information and has been designed to provide an intuitive interface for ease of use for clients.
Current IMF clients, or those that have previously participated in an IMF-funded shareholder claim, are able to access the My IMF portal by visiting (https://portal.imf.com.au/register) and following a two-step registration process:
You will be prompted to enter the email address that you have recorded with IMF;
You will be emailed a temporary password to enable you to log in.
Once logged in you will be able to browse My IMF and review all of your claim information.
If you would like assistance in respect of My IMF or if you have any questions or wish to provide feedback on My IMF Portal, please contact us by phoning us on 1800 016 464 or by emailing [email protected].