How insolvency and restructuring professionals can use litigation funding to investigate and monetize litigation assets
In the World Bank's recent Resolving Insolvency report, Canada ranked 11th worldwide for the recovery rate by secured creditors through reorganization, liquidation or debt enforcement. This raises questions about what can be done to raise that standing, as well as how recovery rates for unsecured creditors can be enhanced.

Litigation funding may provide part of the answer; it is a valuable tool that can be used to maximize recoveries for all creditors.

Bentham IMF's business began in the insolvency space (the 'IMF' stands for Insolvency Management Fund). For more than 16 years, our funding has enabled insolvency and restructuring professionals (IPs) to pursue litigation in order to increase returns to creditors. The types of claims commonly funded include:
breaches of directors' duties;
transactions voidable in insolvency (eg preference payments; uncommercial transactions);
insolvent trading; and
actions against professional advisors or other third party defendants.
Bentham has funded high-value, complex insolvency litigation, as well as small corporate and personal insolvency claims. Examples at the high end include litigation against Babcock & Brown Australia (breach of the Australian Corporations Act in paying dividends out of capital), ABC Learning (a charge taken by the banks in the lead up to the collapse of the company) and the BBY Group (insolvent trading). Such high-value cases can have claim values of hundreds of millions of dollars, with litigation costs that can run into many millions of dollars.

At the opposite end of the spectrum, Bentham provides funding for small corporate and personal insolvency claims. Bentham has established a separate Small Claims Investment Committee, which swiftly evaluates funding requests for claims where the estimated litigation budget is under $1 million and the estimated recovery is around ten times the litigation budget.

Bentham also provides non-recourse preliminary or "seed" funding which enables an IP to undertake initial investigations or obtain an expert opinion to better understand claims identified by the IP in the course of investigating the company's affairs. Preliminary funding is usually between $20,000 and $50,000 (although it can be more) and is provided under a short Preliminary Funding Agreement. An offer can then be made to fund the substantive claim, following completion of the parties' investigations.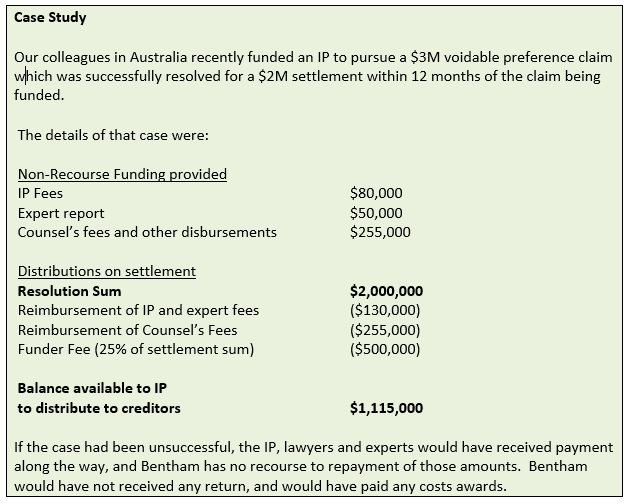 Learn More
To learn more about how funding might assist in the investigation or litigation of a claim for an insolvent estate, please contact us.