Bentham IMF Set to Offer Commercial Litigation Funding in Quebec with Hire of Veteran Litigator George R. Hendy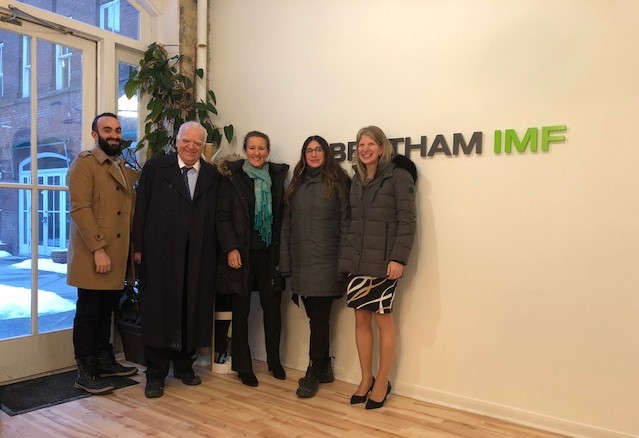 Bentham Canada expanded the reach of its operations to Quebec this week with the hire of veteran litigator George R. Hendy, Ad.E. as Senior Advisor-Quebec.
Tasked with leading the company's entry into the region, its second location in Canada, George will help Bentham source investment opportunities in Quebec and assess their viability for funding. Such investments will take the form of funding to plaintiffs and law firms for large legal disputes and for international arbitration and insolvency matters in Quebec.
George's arrival comes just as Bentham has successfully funded its first matter in Quebec. In late 2017, we committed to fund the plaintiff in a construction dispute being litigated by Borden Ladner Gervais LLP. This is the sixth Canadian case approved by Bentham's Investment Committee for funding since we became the first funder to establish operations in Canada with the opening of our Toronto office in January 2016.
We've seen steadily increasing demand for funding since entering the Canadian market. The absence of the common law doctrines of maintenance and champerty in Quebec, combined with the fact that it is not an adverse costs jurisdiction, make it an attractive jurisdiction for investment.
George will be a strong resource for plaintiffs and law firms seeking financing for commercial litigation and arbitration in Quebec. He has over 45 years of experience before the courts and has practiced as a litigator at leading Canadian law firms Ogilvy Renault (now Norton Rose), Phillips & Vineberg (now Davies, Ward, Philipps and Vineberg LLP) and Osler, Hoskin & Harcourt LLP. While in private practice, he concentrated on corporate and commercial litigation, including pension fund litigation, international arbitration, unfair competition, product liability, class actions, commercial fraud, shareholder disputes, oppression remedies, fiduciary duties of departing employees, unjust dismissals, employment law and contractual disputes of all kinds.
George also possesses extensive experience serving on the boards of directors for several corporations and organizations, including as Director and former Chairman of the Board of Bishop's University Foundation, Director and Chairman of the Board of Exo U Inc., Director of H2 Biopharma Inc., Director and Chairman of the Board of Reddy Memorial Hospital – Montreal. He is also actively involved in the Canadian Bar Association, having served as President of the Quebec branch, Chair of LPAC, and Chair of the Law for the Future Fund Chair. Additionally, he is a member of "Chambre de sécurité financière".
George graduated from Bishop's University (Honours Chemistry) and McGill Law School (BCL). He is fluent in French and English.