IMF Bentham and King & Spalding host third-party funding seminar in Manila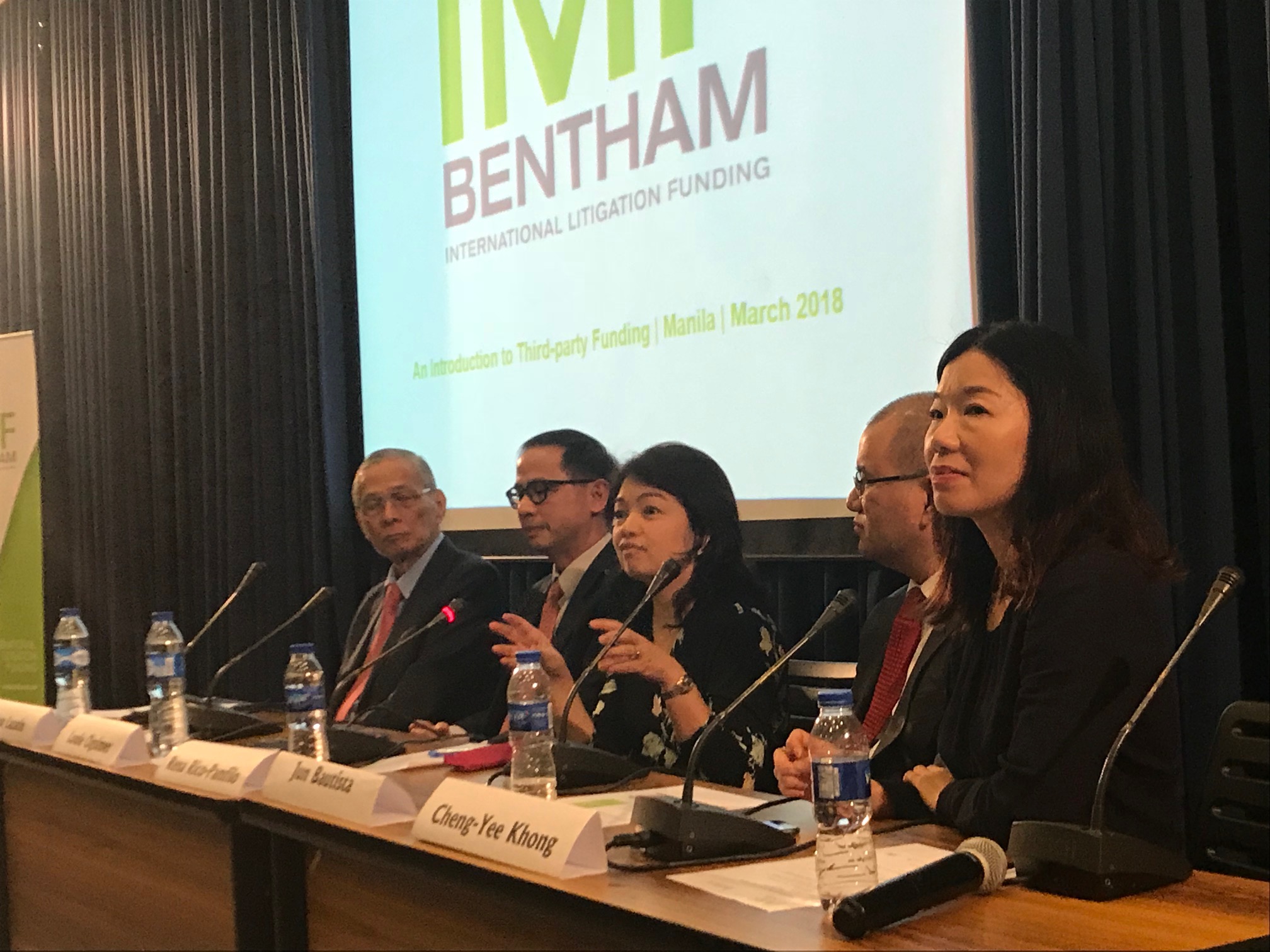 Over 60 legal practitioners, academics and students studying dispute resolution gathered for the first ever seminar on third-party funding in Manila on 13 March co-hosted by IMF Bentham and King & Spalding. In-house lawyers from management consulting firms, banking, manufacturing, infrastructure and other sectors, came to hear the latest developments in the field from our expert panels.
The welcome address was delivered by Dr Francis Chua, Chairman of the International Chamber of Commerce (ICC) National Committee for the Philippines.
The first panel gave a detailed introduction to third-party funding, including an overview on quantum assessment and investigative services. Panellists were Oliver Gayner (IMF Bentham Sydney), Tom Glasgow (IMF Bentham Singapore) and Jonathan Humphrey (Berkeley Research Group).
A second panel, moderated by Cheng-Yee Khong (IMF Bentham Hong Kong), then discussed legal developments affecting third-party funding in key jurisdictions worldwide and focussed particularly on funding from the Philippines' perspective. This panel comprised Cheng-Yee (IMF Bentham), Victor Lazatin (Angara Abello Concepcion Regala & Cruz), Louie Ogsimer (Romulo Mabanta Buenaventura Sayoc & De Los Angeles), Rena Rico-Pamfilo (Seawood Resources) and Jun Bautista (King & Spalding).
The panellists addressed wide-ranging questions from the audience, including the impact of third-party funding on conflicts of interest, confidentiality and legal professional privilege, funding agreement terms, positive impact on balance sheets of funding, how Philippines courts may treat third-party funding and the benefits of third-party funding for solvent corporate entities.
Closing remarks were delivered by Dean Sedfrey Candelaria of Ateneo Law School.
The seminar was proudly supported by ACCRALAW, Ateneo de Manila University School of Law, Berkeley Research Group, the ICC International Court of Arbitration, ICC Philippines and Romulo.
IMF Bentham's seminar preceded this year's Inter-Pacific Bar Association (IPBA) Conference in Manila. The IPBA is an international association of business and commercial lawyers with business interests in the Asia-Pacific region. The IMF Bentham team have joined over 900 lawyers gathered in Manila for the Conference themed "Fostering Seamless Cooperation in ASEAN and Beyond".
ABOUT IMF BENTHAM
IMF is one of the leading global litigation funders, headquartered in Australia and with offices in the US, Singapore, Canada, Hong Kong and the UK. IMF has built its reputation as a trusted provider of innovative litigation funding solutions and has established an increasingly diverse portfolio of litigation funding assets.
IMF has a highly experienced litigation funding team overseeing its investments. We have a 90% success rate over 166 completed investments and have recovered over A$1.3 billion for clients since 2001.
For further information regarding IMF and its activities, please visit www.imf.com.au.