IMF Bentham was well represented at this year's highly successful IPBA Conference in Manila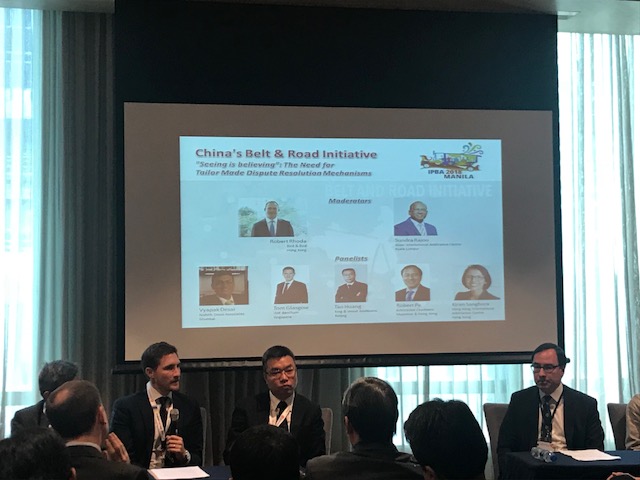 IMF Bentham was well represented at this year's highly successful Inter-Pacific Bar Association Conference in Manila (14-16 March).
The event brought together over 1000 lawyers from the Asia-Pacific region and beyond to discuss latest trends and innovations. IMF was a platinum sponsor, supported by IMF Investment Managers from across the region: Tom Glasgow (Singapore), Oliver Gayner (Sydney) and Cheng-Yee Khong (Hong Kong). It was a pleasure to connect with friends and colleagues from across our global network and it is clear third-party funding is becoming part of the fabric of dispute resolution in the Asia-Pacific.
Tom Glasgow, head of IMF's Asia office based in Singapore, joined a leading panel of experts during the event to discuss China's Belt and Road initiative and the implications for dispute resolution practitioners.
The Belt and Road initiative is unprecedented: no single country has previously attempted to launch such a wide-ranging, long-term initiative, which will drive Chinese investment in infrastructure and power projects across some 65 countries across Asia, Oceania, the Middle East, Central and Eastern Europe and East Africa.
The session was moderated by Robert Rhoda (partner at Bird & Bird Hong Kong) and Sundra Rajoo (Director of AIAC, Kuala Lumpur). Tom was joined by experts from Myanmar (Robert Pé, an arbitrator who served as senior adviser on legal affairs to Daw Aung San Suu Kyi and adviser to Myanmar's Attorney General), the PRC (Huang Tao, partner at King & Wood Mallesons, Beijing), India (Vyapak Desai, partner at Nishith Desai, Mumbai) and Hong Kong (Kiran Sanghera, Deputy Director for business development at HKIAC).
The panel provided diverse and frank views on the positive and potentially negative implications of the initiative, including the propensity for power imbalance in the negotiation of project documents and dispute resolution provisions as well as the likelihood of an unlevel playing field in resulting disputes.
The discussion also touched on whether China would establish a new dispute resolution framework specifically to deal with Belt and Road projects: specialised dispute resolution centres in certain Chinese provinces may be created to offer arbitration, mediation and appeal procedures, with an emphasis on dispute avoidance. It remains to be seen how these institutions might be structured and whether they will be an optional or a mandatory requirement for Belt and Road projects.
The scale of the initiative has potential to change the global economy in fundamental ways. From IMF's perspective, the initiative holds significant further interest. Non-Chinese parties are likely to see benefits from third-party funding when seeking to level the playing field and ensure fair outcomes against well-resourced PRC parties. Equally, leading Chinese economists have identified Belt and Road disputes as a core driver of legal capital demand in China over the coming decades.
The panel drew a full-house and many questions and comments from the audience. It was generally regarded as one of the most interesting sessions at this year's IPBA.
ABOUT IMF BENTHAM
IMF is one of the leading global litigation funders, headquartered in Australia and with offices in the US, Singapore, Canada, Hong Kong and the UK. IMF has built its reputation as a trusted provider of innovative litigation funding solutions and has established an increasingly diverse portfolio of litigation funding assets.
IMF has a highly experienced litigation funding team overseeing its investments. We have a 90% success rate over 166 completed investments and have recovered over A$1.3 billion for clients since 2001.
For further information regarding IMF and its activities, please visit www.imf.com.au.