Commercial litigation financing drives new demand for client value: an interview with Bentham's CMO, Gretchen Lyn Koehler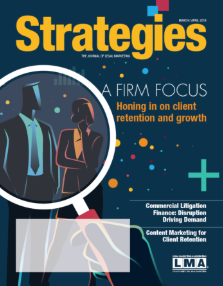 Gretchen Lyn Koehler, Chief Marketing Officer at Bentham IMF, explains in the most recently published edition of Strategies Magazine how litigation finance is coming of age as law firms realize that making more case financing options available to their clients strengthens relationships and forges pathways for developing more robust litigation practices.
What began as a means of affording access to justice for parties seeking legal redress for the wrongs they were experiencing in business is now being embraced by firms as a strategic client development tool, Koehler explains. This evolution, she says, creates new opportunities for law firms to spearhead initiatives focused on something that clients value more than most other aspects of their legal representation: the dollars-and-cents cost of service.
Koehler encourages firms to prepare for client inquiries about litigation finance options and learn how to incorporate it into marketing pitches. "The widespread embrace of litigation funding as a strategic finance tool – by individuals, startups and corporations alike - is a trend that savvy law firms are getting ahead of now while the opportunity to proactively engage clients in dialogue about it still presents," she says.
Pointing to what she calls "the universally appealing aspects of litigation finance," Koehler explains how firms are helping clients use funding to change the value proposition of plaintiff-side litigation. "When a company pays for legal services, the expense is reflected on its corporate balance sheet. If it instead uses funding to cover the cost of the legal services, the case changes from an expense to a financed asset," she says. She also highlights more subtle benefits, such as diminished risk for the client (and the firm), access to working capital and resources to hire the firm most qualified to litigate a case.
How can firms prove they're on the cutting edge of this development? Koehler encourages them to discuss litigation finance with clients, indicating that doing so could help them win plaintiff-side work from clients who typically only hire them on defense-side matters. She also suggests customizing pitches and RFP responses to demonstrate how funding can impact the budget for a case. "Comparative modeling that shows what the client will pay out-of-pocket to pursue the case with discounted fees, for example, versus pursuing it with funding, can be a compelling way to demonstrate that the firm is striving to put forth a proposal that considers how best to achieve the client's comprehensive goals," she says.
Visit the Strategies Magazine website to read the article, or click here to read the version republished by Texas Lawbook.
You can also hear Koehler discuss this topic on the Legal Marketing Association's podcast episode, A Disruptive Force in Client Value.