IMF Bentham Limited presentation on third-party funding of cross-border disputes in China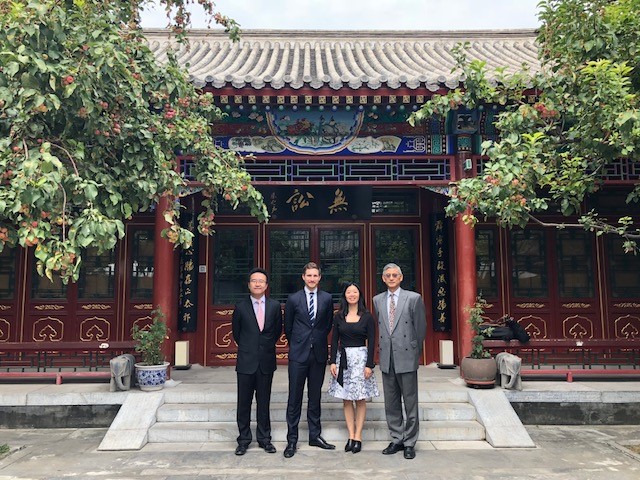 IMF Bentham Limited was delighted to be invited to present to leading Chinese law firm, Tiantong & Partners, and their clients at a seminar in Beijing on 18 September. The presentation, by IMF Bentham's Tom Glasgow and Cheng-Yee Kong, was titled "Developments of Third Party Funding in the APAC Region and the World – The New Method of Financing Cross Border Disputes".
The presentation included a discussion about the benefits of dispute resolution finance for corporates and law firms, how the funding process works in practice, including the main investment criteria assessed by funders, and provided examples of funding models and the range of outcomes for cases funded by the client versus cases funded by a third-party funder. Tom and Cheng Yee also contrasted the legal framework for dispute resolution finance in various jurisdictions, including Singapore, Hong Kong and Australia. The seminar, conducted in Chinese and English, included many very interesting questions from the highly engaged audience.
Tiantong & Partners is one of the leading law firms in China that is solely dedicated to complex and high profile commercial disputes. It has represented more appeal and retrial cases before the Supreme People's Court than any other law firm in China. Tom and Cheng Yee were introduced by David Gu, a partner in Tiantong's international litigation and arbitration practice, who gave an introduction on third party finance in the Chinese market.
Tom is IMF Bentham's Chief Investment Officer – Asia, based in Singapore. He works closely with Cheng-Yee, an international arbitration specialist, who leads IMF Bentham's Hong Kong office. Tom and Cheng-Yee assess and manage funded cases for IMF Bentham throughout Asia, including arbitration, litigation and insolvency claims.
The photo is of David Gu, Tom Glasgow, Cheng Yee Khong and Rollin Chan, an arbitrator who attended the seminar, in front of the hall at which the seminar was held, part of Tiantong's beautiful historical offices.
ABOUT IMF BENTHAM
IMF Bentham is one of the leading global litigation funders, headquartered in Australia and with offices in the US, Singapore, Canada, Hong Kong and the UK. IMF Bentham has built its reputation as a trusted provider of innovative litigation funding solutions and has established an increasingly diverse portfolio of litigation funding assets.
IMF Bentham has a highly experienced litigation funding team overseeing its investments. IMF Bentham has a 90% success rate over 175 completed investments and has recovered over A$1.4 billion for clients since 2001.
For further information regarding IMF Bentham and its activities, please visit www.imf.com.au or www.imf.sg.