IMF Bentham participates in IBA 2018 ​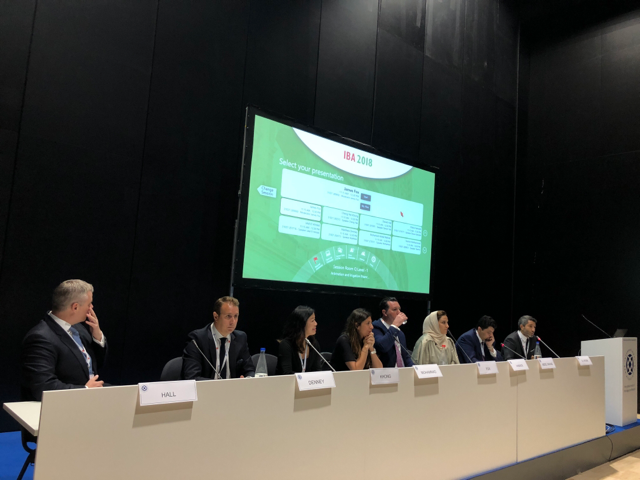 IMF Bentham Limited's Cheng-Yee Khong attended IBA 2018, the International Bar Association's Annual Conference, held in Rome this year. Cheng-Yee was a panellist on a session titled, Arbitration and Litigation Finance in the Arab World.
The panel included representatives from third-party funders and law firms from a range of jurisdictions in the Middle East, including UAE and Egypt. Cheng-Yee, who leads IMF Bentham's Hong Kong office, commenced the panel session with an introduction to third-party funding. Other panellists discussed their experience of funding in the Middle East, the legal implications of funding in the region and issues relating to enforcement of awards. Cheng Yee provided a comparison to the funding landscape in Asia.
The IBA's Annual Conference is the legal profession's largest international event. The panel session was the only session on third-party funding at this year's conference and the attendees included practitioners from the Middle East, Europe and Asia. The session included excellent comments and questions from the highly engaged audience, including whether the Arab region should introduce legislation to expressly permit third-party funding for arbitration and for some form of regulation for the industry to provide certainty and to further promote the region as a venue for arbitration.
Cheng-Yee is an international arbitration specialist. Prior to joining IMF Bentham, she was the Director and Counsel of the International Chamber of Commerce International Court of Arbitration Secretariat, where she helped launch the ICC's Asia Office and was in charge of developing and managing ICC arbitrations in the Asia Pacific region. Cheng-Yee works closely with Tom Glasgow and Arvindran Manoosegaran of IMF Bentham's Singapore office to assess and manage funded cases for IMF Bentham throughout Asia, including arbitration, litigation and insolvency claims.
ABOUT IMF BENTHAM
IMF Bentham is one of the leading global litigation funders, headquartered in Australia and with offices in the US, Singapore, Canada, Hong Kong and the UK. IMF Bentham has built its reputation as a trusted provider of innovative litigation funding solutions and has established an increasingly diverse portfolio of litigation funding assets.
IMF Bentham has a highly experienced litigation funding team overseeing its investments. IMF Bentham has a 90% success rate over 175 completed investments and has recovered over A$1.4 billion for clients since 2001.
For further information regarding IMF Bentham and its activities, please visit www.imf.com.au or www.imf.sg.