Securities class actions and maximising recoveries: IMF Bentham presentation at Superfund Back Office conference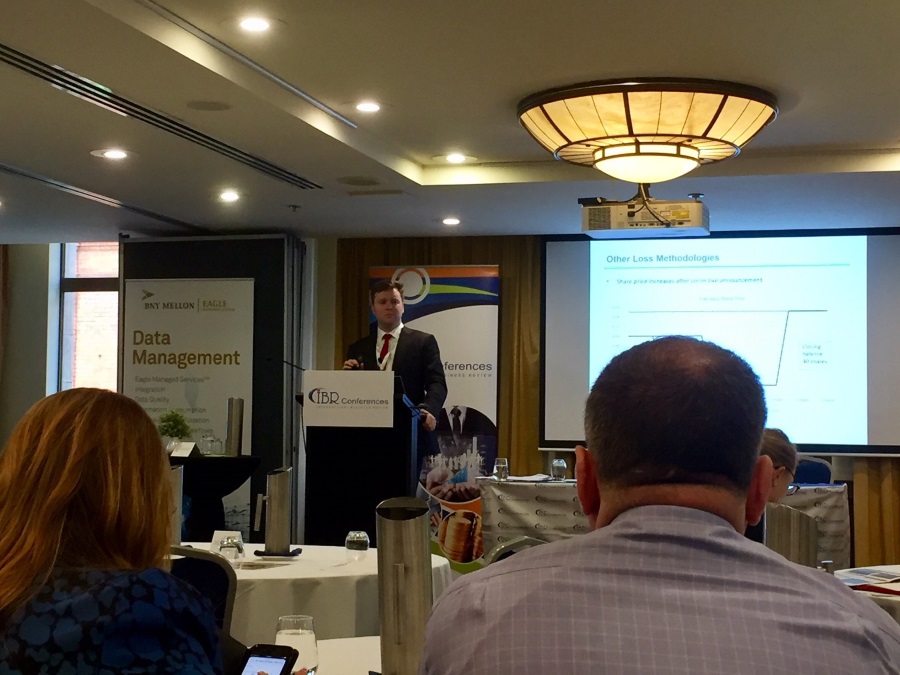 IMF Bentham Limited's
Ewen McNee
was delighted to participate in the Superannuation Fund Investment Operations Forum 2018, held in Sydney on 22-23 October. The forum, presented by International Business Review, was the 5
th
annual Superfund Back Office conference.
Ewen is an investment manager in IMF Bentham's Sydney office. He has responsibility for due diligence and management of funded cases, in particular, shareholder class actions. He gave a presentation titled
Securities class actions – the importance of back offices helping your clients maximise their recoveries.

Ewen provided a brief overview of IMF Bentham and shareholder class actions in Australia, including the differences between open and closed class actions and the different methodologies used to calculate loss, including LIFO, FIFO and netting. He gave examples of different loss calculations and focused on certain important matters for a potential class member to consider, for example, the methodology used to calculate the loss estimates when there are competing class actions, and the importance of engaging with the funder and lawyers early and providing accurate trading data to assist maximising recoveries.

The audience, which included C-suite and senior investment operations management in superfunds and asset managers, was highly engaged and asked interesting questions about IMF Bentham and funding related to class actions, including the following:
What is IMF Bentham's success rate?

IMF Bentham has a 90% success rate for matters funded to completion over its 17-year history. We carefully assess cases and choose matters with strong prospects of success and commercial viability. IMF Bentham has recovered over A$1.4 billion for clients since 2001.

What makes a good funder?

A good funder is not only well-resourced, to ensure it has sufficient capital to fund the case to completion and, also, any adverse costs orders, in the event that the case is unsuccessful, but should also offer more than financial support. A good funder will have staff who are experienced, former dispute lawyers who can assist in the management of the action, provide input into case strategy, and be able to offer additional services such as book building, mass communication with clients and the ability to generate loss reports.

Why would I choose IMF Bentham if there are competing class actions and funding solutions?

IMF Bentham is a publicly listed entity and therefore its funding sources and strong balance sheet are transparent. It has a large team of highly experienced investment managers, and its investment committees include former judges. As one of Australia's longest-running and largest funders, IMF Bentham has developed unsurpassed know-how and collective expertise. We understand which cases to fund and strategies for how to run them efficiently, to bring a successful resolution for the maximum achievable value.

About IMF Bentham
IMF Bentham is one of the leading global litigation funders, headquartered in Australia and with offices in the US, Singapore, Canada, Hong Kong and the UK. IMF Bentham has built its reputation as a trusted provider of innovative litigation funding solutions and has established an increasingly diverse portfolio of litigation funding assets.
IMF Bentham has a highly experienced litigation funding team overseeing its investments. IMF Bentham has a 90% success rate over 175 completed investments and has recovered over A$1.4 billion for clients since 2001.
For further information regarding IMF Bentham and its activities, please visit www.imf.com.au or www.imf.sg.