Bentham IMF hires two more Investment Managers, further strengthening the specialized expertise of its Investment Management team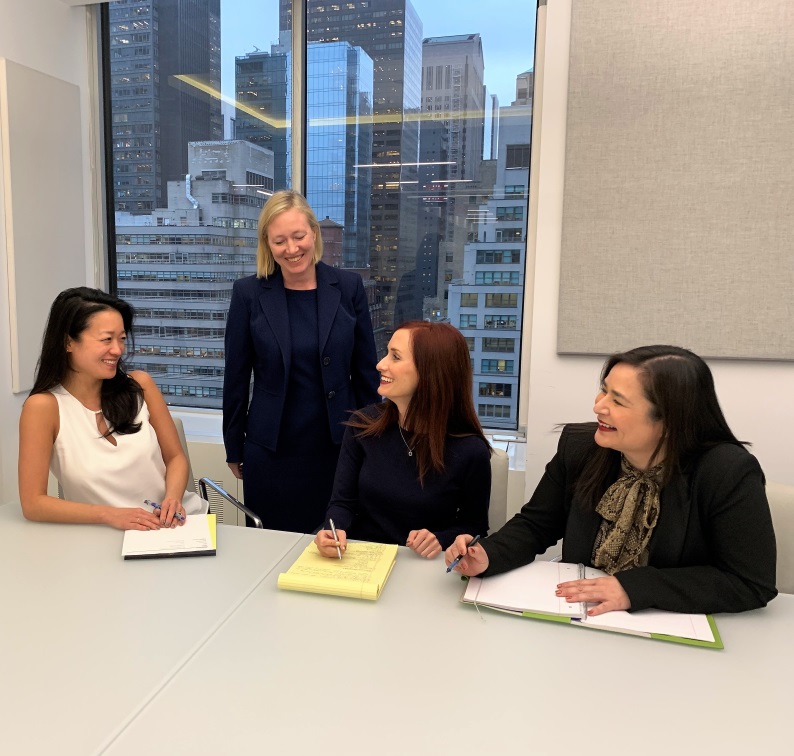 Bentham IMF has hired Sidley Austin LLP partner, Dana MacGrath, and Kirkland & Ellis LLP partner, Sarah Tsou, as investment managers and legal counsel responsible for sourcing and evaluating arbitration and commercial litigation matters that meet Bentham's investment criteria. The company has also hired Chief of Staff, Tina Young, from Deloitte Consulting LLP. This marks the second round of hiring at the company since it launched its most recent fund in November 2018.
Bentham and its parent company, IMF Bentham Limited, already stand out in the male-dominated industries of law and finance for having women throughout the ranks—including at the board of directors, senior management and investment management levels. These new hires, along with hires the company announced in December 2018, establish gender equality at a level where law firms and financial institutions have struggled to achieve it. The company's ten-person senior investment management team in the U.S., which is comprised solely of lawyers in business-generating roles comparable to equity partner roles at law firms, now has an equal number of men and women. This achievement furthers the company's tradition of setting high standards for diversity in the burgeoning industry it helped to form.
The arrival of Dana and Sarah also strengthens the company's ability to evaluate cases in areas of practice where demand for funding is high. Dana will be responsible for leading the company's investments in international arbitration matters. She has long been a leading practitioner in international arbitration, having conducted arbitrations before the preeminent international arbitration institutions, as well as before ad hoc arbitration panels, and serving as an arbitrator herself. She has also represented U.S. and foreign parties in disputes regarding the enforceability of arbitration agreements and arbitral awards, forum selection and choice of law clauses, sovereign immunity and discovery in the international context.
Sarah will enhance Bentham's ability to evaluate intellectual property matters for investment, in particular patent litigation. She brings the perspective of a big firm lawyer who has spent over a dozen years representing clients ranging from start-ups to Fortune 100 companies in all aspects of complex litigation from inception to trial. In addition to litigating patent disputes spanning a broad range of technologies and industries, Sarah has also handled trade secret and trademark litigation and counseled clients in corporate acquisitions, licensing matters, and other transactions.
Tina Young will play a management role for Bentham, drawing on more than 25 years' experience working in the financial services and TMT industries for companies including JP Morgan Chase Bank, N.A., Morgan Stanley and Reuters America. Throughout her career, Tina has held senior leadership roles on global teams devoted to data management, leveraging industry and client insights, providing strategic sourcing solutions for risk and compliance, expense management and procurement.
The team's newest hires are highly qualified in their respective fields. Dana has been recognized as a leading practitioner of international arbitration in various directories, including Chambers USA, Who's Who Legal: Arbitration, Latinvex in "Latin America's Top 100 Female Lawyers" and Expert Guides' Guide to the World's Leading Experts in Commercial Arbitration. She is the current President of the Board of Directors of ArbitralWomen, an international nonprofit organization that promotes women and diversity in international dispute resolution. She is also a member of several other professional associations. She is an adjunct professor of law at Brooklyn Law School, where she teaches a seminar on international commercial arbitration and coaches the Brooklyn Vis International Commercial Arbitration Moot team. Dana earned her J.D. from New York University School of Law and her B.A. cum laude, from Middlebury College.
Sarah has tried numerous cases before federal district juries and judges, arbitration panels, and the U.S. Patent Office, and she joins Bentham just weeks after her latest jury trial win. Working with the world's premier intellectual property trial lawyers, she has secured significant verdicts and judgments for both plaintiffs and defendants, including some over $100 million. Sarah and her cases have been recognized in The American Lawyer, Law360 and other publications. Most recently, one of her successes was profiled by Law360 in its announcement naming her former firm a 2018 IP Group of the Year. In addition to taking various committee leadership roles at her former firm, Sarah was a recipient of the Kirkland & Ellis LLP Pro Bono Service Award. She earned her JD from New York University School of Law and her BA from Washington University in St. Louis, graduating summa cum laude, with Highest Honors.
Please visit our press release about this news for additional information about how these recent hires add strength to our team.
Disclaimer
Nothing herein should be construed as an offer to buy or sell, nor a solicitation of an offer to buy or sell, any security or other financial instrument, or to invest assets in any account managed or advised by Bentham IMF or its affiliates.