Andrew Saker and Allison Chock recognized by Lawdragon in its 100 Leading Legal Consultants and Strategists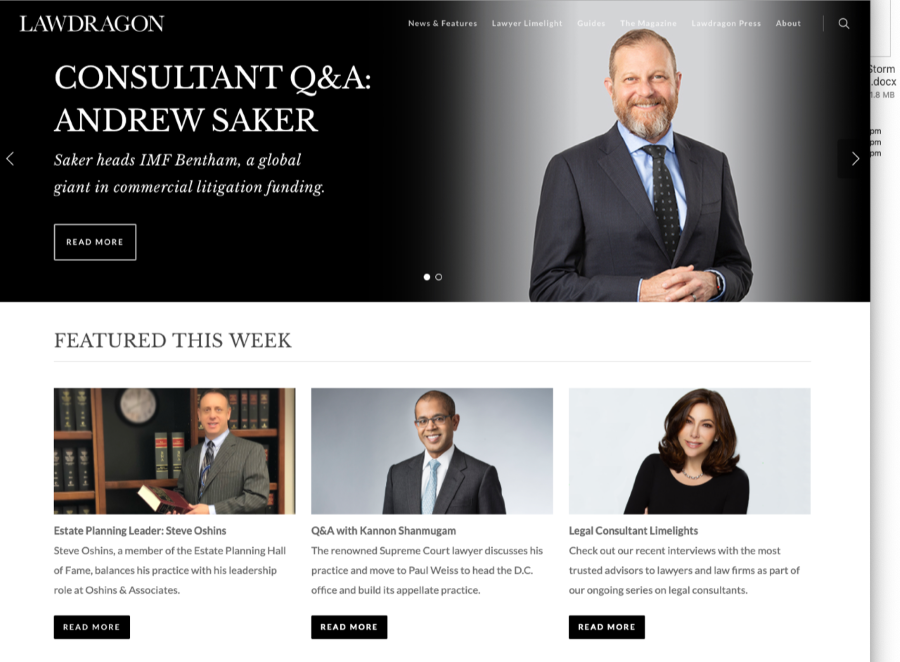 Andrew Saker, global Managing Director and Chief Executive Officer of Bentham IMF parent company and leading commercial litigation funder, IMF Bentham Limited (ASX: IMF), and Allison Chock, Chief Investment Officer-US of Bentham IMF, have been recognized by US legal media company Lawdragon's 2019 guide to the 100 Leading Legal Consultants and Strategists. This is the fourth consecutive year Allison has been featured in the guide.
IMF Bentham pioneered dispute finance in Australia in 2001 and our US operations commenced in 2011. During this time we have helped to educate the market and shape the evolution of the dispute finance industry from its infancy to what it is today. The recognition from Lawdragon reflects our experience, the strong relationships we have built across the legal industry and that we are now a preferred funder for many leading law firms. Globally, IMF Bentham is regarded as one of the leading funders in the world. This is borne out in our track record: we have achieved a 90% success rate over 18 years.
Lawdragon is a leading provider of free online news and editorial features, including its guides to America's leading lawyers and other specialty guides. According to Lawdragon, "we are in the age of litigation finance" and its 2019 guide lists those financiers and other legal consultants and strategists such as marketing and communication gurus on whom the legal profession relies.
Lawdragon has also featured Andrew in an interview on its website, in which he discusses the types of services we provide and how we are distinguished from our competitors. Andrew points to our highly experienced Investment Managers and our Investment Committees, which comprise our most senior specialists and include former judges. He also discusses the importance of innovation and the ways in which we continue to develop finance solutions to meet market demand. Andrew also explains the transformational strategy IMF Bentham has been implementing since 2015 involving expanding our geographic footprint, diversifying our product and service offering and migrating our capital management approach to become a fund manager investing via fund structures.
Read the full article
here
.