Bentham IMF completes third round of US hiring since launch of $500M Fund devoted to US investments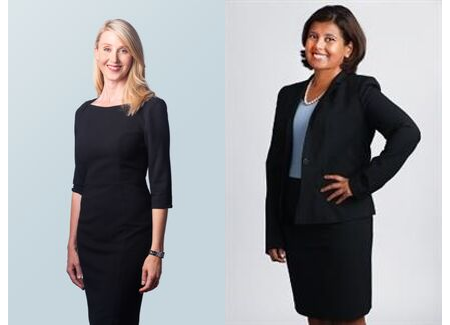 Bentham IMF has completed its third round of hiring since the November 2018 launch of its second fund devoted to US investments. Stephanie Southwick, Managing Partner of Greenfield Southwick LLP, a boutique business and intellectual property litigation firm, has joined the company as an Investment Manager and Legal Counsel, adding strength to the team of former Latham & Watkins attorneys in its San Francisco office. Nilufar Hossain, Acting General Counsel at Prakti who previously practiced international arbitration and commercial litigation at King & Spalding LLP and Freshfields Bruckhaus Deringer LLP, has joined Bentham as Legal Counsel in its New York City office.
The hires reinforce the company's established expertise in evaluating cases in areas of practice where demand for funding is high. Intellectual property claimants have long sought support from Bentham due to the high cost of pursuing such cases and the protracted time they can take to resolve. The rapid rise in trade secrets litigation brought about by the passage of the Defend Trade Secrets Act, combined with a strong job market spurring trade secret theft, has prompted increased demand specific to trade secrets funding. Ms Southwick meets the needs of parties bringing those disputes in several ways. In her sixteen plus years as a litigator, she has won numerous verdicts and dispositive motions and secured favorable settlement outcomes for her clients. And she has worked with the types of companies most commonly bringing trade secret claims—start-ups, tech companies and manufacturers. She also has represented VCs, real estate developers, family offices, directors and officers and professional partnerships. Her experience also extends to litigating business torts, contract disputes, founder disputes, and employment matters.
"Adding a well-respected expert in trade secrets such as Stephanie Southwick sets Bentham apart," said Allison Chock, Bentham's US Chief Investment Officer. "We enhanced our IP funding strengths earlier this year when we hired Kirkland & Ellis LLP partner Sarah Tsou to oversee our US patent funding. Ms Southwick's arrival broadens our capabilities such that we can now serve as a one-stop-shop for all types of IP funding."
Arbitration disputes give rise to similar issues that prompt the need for funding. With 14 offices around the world and leading international arbitration practitioners including Dana MacGrath (former Sidley Austin LLP partner and current ArbitralWomen President) on its team, Bentham has the capacity—and the capital strength—to provide solutions for international arbitrations arising across the globe. Nilufar's experience representing US and foreign clients in cross-border litigations, investigations and arbitrations concerning energy, oil & gas, mining and natural resources, pharmaceuticals, technology, and construction disputes adds to the expertise Bentham brings to bear in vetting such disputes.
The hires also help Bentham mirror the legal department and executive teams of the companies it funds. "Gender and ethnic diversity haven't driven our hiring strategy, but they are factors we consider as we strive to be the trusted resource that companies around the world can look to for strategic financing solutions," said Allison Chock. The company's eleven-person senior investment management team in the US, which is comprised solely of lawyers in business-generating roles comparable to equity partner roles at law firms, now has more women than men—a rarity in the fields of law and finance.
Please visit our press release about this news for additional information about how these recent hires add strength to our team.