Negotiation strategies for commercial dispute resolution - how to set up for success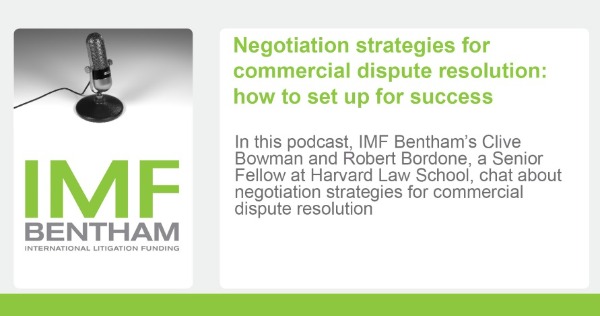 In this two-part podcast, IMF Bentham's Clive Bowman chats with
Robert Bordone
, a Senior Fellow at Harvard Law School, about negotiation strategies for commercial dispute resolution.
Clive is IMF Bentham's Global Chief Investment Officer, based in Sydney. Clive has led some of the company's most high profile and significant investments and chairs our Global Investment Committees to assess funding opportunities across the globe. Bob served as the Thaddeus R. Beal Clinical Professor of Law at Harvard Law School for two decades before beginning his advisory and consulting practice. Bob founded the globally renowned Harvard Law School Negotiation and Mediation Clinical Program, which he directed for more than a decade. He has taught several courses at the law school, including the school's flagship Harvard Negotiation Institute workshop.
This podcast has been divided into 2 episodes and includes a discussion about:
Theories behind negotiation methods and principles for negotiating a good outcome.
Positional Bargaining, alternative methods of negotiating, and how to get around difficult behaviour from the other party.
Key learnings from the globally renowned Harvard Negotiation Institute workshop.
Part 1 (Episode 6)
(link)
Part 2 (Episode 7)
(link)
For PDFs of the podcast transcripts, click for Part 1 and Part 2.