Remembering Steve Susman, A Legal Giant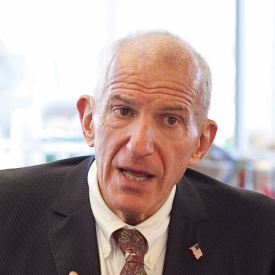 By: Allison K. Chock, Chief Investment Officer, US
The Omni Bridgeway family is mourning the loss of Steve Susman.
Not long after I joined what was then our tiny company in the United States in 2013—I was one of just four full-time employees in the US at that time—my former colleague and I conceived of putting together a round table event to discuss lawyers' concerns about our then-nascent industry, litigation funding. What were their fears about our industry, ethical or otherwise? How, ideally, could we serve the legal profession? Who should answer these questions?
We thought we would devise a pie-in-the-sky "wish list" of top-tier litigators and ethics experts and work our way down from there. Steve Susman was at the top of the list. I knew him, but only slightly, from my prior practice. Though not at the same firm, Steve and I had once represented the same client in a couple of related, high-stakes cases. It had been several years since I'd communicated with Steve, and so I wrote him a long email out of the blue, inviting him to join our round table, describing what we had in mind, what we hoped to accomplish, and who we hoped to have attend… fully expecting he would not be interested. He was, after all, a true titan of the plaintiff's bar with plenty of other things to do. To my surprise, Steve responded almost immediately with just one word, in very large font:
Yes.
That inaugural round table event kicked off a years-long relationship between Steve and our company. Not only did he agree to join our Advisory Panel following that first event, he was a regular and enthusiastic participant at our company's events around the country over the next seven years. Mind you, Steve was not a mouthpiece for our industry in general nor for our company in particular. He did not hesitate to call things as he saw them—loud and clear for all to hear. In 2013, he said he viewed litigation funders as "helping his competition." Last September, as the keynote speaker at a Litigation Finance industry conference, Steve echoed this sentiment. He encouraged funders to be transparent with their books and to create fair and simple funding contracts. But despite—or perhaps because of—his ever-candid views on our industry over the years, our relationship with Steve and his firm—packed to the gills with whip-smart, skilled lawyers—grew stronger.
Of course, the legal profession knows that Steve was a uniquely talented trial lawyer. He was a fierce defender of the civil jury trial, a unique feature of the US legal system enshrined in the Seventh Amendment to our Constitution. He founded the Civil Jury Project at NYU Law School to teach the next generation of lawyers why civil jury trials are so important and how to protect the practice. In addition, he championed simplicity in discovery procedures. As a lawyer, he was truly a force to be reckoned with.
But I was also privileged to learn over the years that Steve was much more: a fascinating and well-rounded person. He enjoyed travel, tasty food, and occasionally, provoking the press (all the better if he could engage in all those things all at once). He found the joy of cycling later in life, and the very last time I saw him, he told me about his daily rides with all the excitement and enthusiasm of a much younger man. He was a good person, and a good friend to us.
To Steve—the world is a bit dimmer now that you have left it. You will be missed.