Omni Bridgeway grows its Arbitration practice group in the German speaking region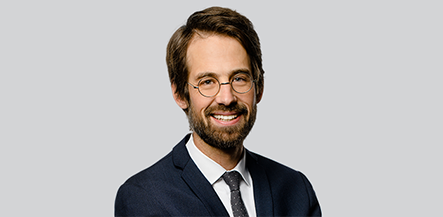 Omni Bridgeway (ASX:OBL) welcomes Dr. Martin Metz, LLM to its German team as an Investment Manager and Senior Legal Counsel based in the Cologne office.
Martin joins the team along with two other recent hires in the EMEA region. This recent addition fortifies Omni Bridgeway's global approach to offering funding solutions by team members with local knowledge, networks, and cultural awareness.
Martin will focus on providing legal analysis and recommendations on matters suitable for funding and will also engage in expansion efforts for Omni Bridgeway's Arbitration practice group in German speaking countries.
"The request for funding of arbitral proceedings has increased significantly in Germany since our merger in 2019. Thus, I am very delighted that an experienced arbitration specialist like Martin will strengthen our practice with his expertise and network", comments Dr. Arndt Eversberg, Managing Director of Omni Bridgeway in Germany.
Martin is equally elated as he "very much looks forward to the opportunity to join Omni Bridgeway's global team in a highly interesting and dynamic industry."
Prior to joining Omni Bridgeway, Martin practiced law at DLA Piper, where he specialised in cross-border legal disputes in arbitral proceedings and commercial litigation. In his role as Senior Associate at DLA Piper, he advised clients in the automotive, energy, technology, and insurance sectors.
Martin is admitted to the Cologne Bar and the California Bar. He graduated with a law degree from the University of Cologne and holds an LL.M. from the German and French Masters-Programme of the University of Cologne and the Université de Paris 1 (Panthéon-Sorbonne).
Omni Bridgeway is delighted to welcome Martin to the team. He can be reached at [email protected] or +49 221 801155-28.
_____________________________________________________________________________________________________________________________


Omni Bridgeway verstärkt seine deutsche Arbitration-Praxis
Das deutsche Team von Omni Bridgeway begrüßt ein neues Mitglied. Dr. Martin Metz ist als Rechtsanwalt und Investment Manager am Kölner Standort für die Prüfung und die Betreuung von Schiedsverfahren verantwortlich. Dabei arbeitet er eng mit den übrigen Teammitgliedern der europäischen Arbitration-Praxis zusammenarbeiten, welche auf mehrere Standorte verteilt sind. Ein Fokus seiner Tätigkeit liegt zudem auf dem Ausbau des Arbitration-Finanzierungsangebotes im deutschsprachigen Raum.
Rechtsanwalt Dr. Metz folgt auf zwei weitere Neuzugänge im EMEA-Team und stärkt damit Omni Bridgeway's Strategie, weltweit Finanzierungslösungen mit lokalem Wissen, Netzwerken und kulturellem Verständnis anzubieten.
Dr. Martin Metz wechselte von der internationalen Kanzlei DLA Piper, wo er Mandanten in den Bereichen Automobil, Energie, Technologie und Versicherungen, bei grenzüberschreitenden handelsrechtlichen Streitigkeiten vor Schiedsgerichten und staatlichen Gerichten beriet.
"Die Nachfrage nach der Finanzierung von Schiedsgerichtsverfahren hat in Deutschland seit unserem Zusammenschluss 2019 deutlich zugenommen. Daher freue ich mich sehr, dass ein erfahrener Arbitrationsspezialist wie Dr. Martin Metz unsere Praxis mit seiner Expertise und seinem Netzwerk stärkt", kommentiert Dr. Arndt Eversberg, Vorstand von Omni Bridgeway in Deutschland.
Martin Metz fügt an: "Ich freue mich sehr darauf, Teil des globalen Teams von Omni Bridgeway zu werden. Die Aufgaben, die das dynamische Geschäft der Prozessfinanzierung bereit hält, reizen mich sehr. "
Dr. Metz ist als Rechtsanwalt in Köln und in Kalifornien zugelassen. Er schloss sein Studium der Rechtswissenschaften an der Universität Köln ab und erwarb einen LL.M. im Rahmen des Deutsch-Französischen Magisterstudiengangs der Rechtswissenschaften Köln/Paris 1 (Panthéon-Sorbonne).
Omni Bridgeway freut sich, Rechtsanwalt Dr. Martin Metz im Team begrüßen zu dürfen. Sie können ihn unter mmetz@omnibridgeway.com oder +49 221 801155-28 erreichen.