Omni Bridgeway recognized by National Law Journal with Top 3 and Hall of Fame Honor in its 2021 Best Of publication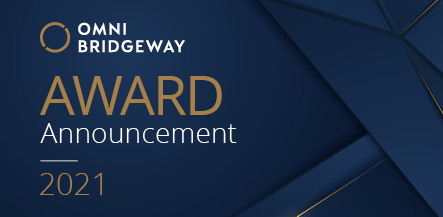 Every year, the National Law Journal publishes a "Best Of" ranking to help attorneys identify outstanding legal products and providers. These rankings are based on votes submitted by legal professionals and firm administrators that are meant to identify companies that have been crucial to the growth and efficiency of the legal profession. The annual Best Of list places a spotlight on those organizations that have gained a reputation for being among the best of the best in their field.
Omni Bridgeway is honored to be recognized by the National Law Journal in its 2021 Best Of publication in two categories:
Hall of Fame Honor for Law Firm Funding Provider; and
Top 3 Law Firm Funding Provider.
ABOUT OMNI BRIDGEWAY
Omni Bridgeway is the global leader in financing and managing legal risks, with expertise in civil and common law legal and recovery systems and operations around the world. Omni Bridgeway offers dispute finance from case inception through to post-judgment enforcement and recovery. Since 1986 it has built a record of financing disputes and enforcement proceedings around the world.
During our 30+ years' experience in the dispute finance business we have funded hundreds of cases to completion. The benefits of working with Omni Bridgeway begin with covering the skyrocketing costs of engaging in disputes. We provide funding to enable individuals, companies, groups, and insolvency dispute stakeholders to pursue cases to the most desirable outcome. Beyond capital, we equip parties with strategic guidance in disputes, skillful negotiation in enforcement activities, and access to a broad network of relationships across the legal, finance, insurance, and related industries.
To learn more about Omni Bridgeway's litigation funding capabilities, visit our Company Insights. While there, explore our recent podcasts, blog posts, and videos. Or contact us for a consultation to learn more about the ways we can help you pursue meritorious claims.