Mining companies may be digging in for more disputes with sovereigns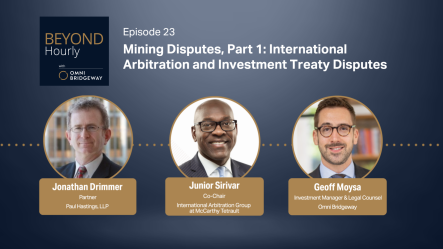 Governments around the world are facing budget pressures related to the COVID-19 pandemic and its economic fallout. And in some jurisdictions, officials may be tempted to pan for gold by expropriating assets in their countries held by mining companies.

Such moves could lead to a surge in litigation and arbitration against sovereigns in the months and years ahead. And in large, highly meritorious cases, litigation funding can provide the financial firepower necessary for mining industry claimants to pursue their claims.

COVID-19, its impact on expropriation and the role of funding in such cases is just one of the issues explored by Geoff Moysa, an investment manager and legal counsel based in Omni Bridgeway's Toronto office, in a new, two-part episode of the Beyond Hourly podcast.

In part one, Moysa covers the latest trends in mining-related litigation and arbitration, particularly upstream mining disputes and international arbitration. (Part two covers downstream commercial litigation trends for the mining sector.) A former litigation and arbitration partner at McMillan LLP with experience in mining arbitration, Moysa is responsible, in part, for assessing investment opportunities in the mining space for Omni Bridgeway.

Joining Moysa on the podcast are two lawyers with deep experience in mining industry litigation and arbitration cases, Junior Sirivar and Jon Drimmer. Sirivar is a partner in McCarthy Tetrault's Litigation Group in Toronto and co-chairs the firm's International Arbitration Group. He is also a member of the firm's Global Mining Litigation Practice Group and holds a certificate in Mining Law from Osgoode Hall Law School.

Drimmer is a partner in the Investigations and White Collar Defense practice at Paul Hastings. Based in the firm's Washington, D.C. office, Drimmer is an international expert on anti-corruption in business and human rights. He also served as a deputy general counsel and chief compliance officer of Barrick Gold, one of the world's largest mining companies.

The topics they cover in this episode include:

Views on the top-of-mind issues currently facing mining clients, including post-COVID complications for the industry and the rising number of royalty disputes and mining arbitrations.

The increase in virtual hearings in litigation and arbitration and the likelihood they will remain after the pandemic fades.

Bilateral investment treaty disputes involving government expropriation, and the risks mining companies may face going forward.

The enforcement landscape, including how often companies are forced to take such steps against a sovereign.

How third-party funding is being explored by a wider range of mining companies, from single to multiple asset exploration and medium-sized players to large mining conglomerates.

Current trends in how damages are compensated and calculated for claims involving early-stage and extractive projects.

The impact corporate social responsibility, environmental and human rights issues have on mining-related disputes, both in Canada and internationally.

To learn more about Omni Bridgeway's litigation funding capabilities, visit our Company Insights. While there, explore our recent podcasts, blog posts, and videos. Or contact us for a consultation to learn more about the ways we can help you pursue meritorious claims.