Unwilling but able: how to successfully enforce favourable judgments or awards against evasive debtors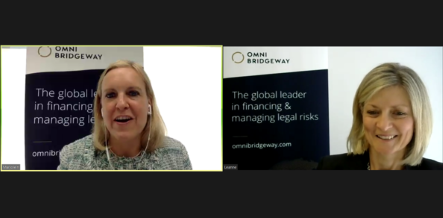 Author:

Investment Manager, Head of Enforcement (APAC) - Singapore
---
You've won a case and achieved a favourable judgment or award. Success at last! Until it isn't honoured. Whether due to business, political or other factors, many parties and sovereigns resist paying monies owed on judgments and awards obtained in commercial and investment disputes.
In a webinar for the Association of Corporate Counsel (ACC) Australia, Omni Bridgeway Investment Manager Leanne Meyer chatted with Head of Enforcement for Asia, Marjolein van den Bosch-Broeren, about the role a dispute funder plays in enforcing judgments and awards from unwilling or evasive debtors and steps in-house counsel can take to safeguard collectability. Here we share some of Marjolein's key insights.
Getting a favourable judgment or award is not the same as getting paid
Winning a case can be the first step in a long, difficult battle to recover the proceeds from a counterparty. Clients often come to us with claims against counterparties that are expected to evade payment when the clients have obtained a judgment or award against them. Other clients come to us with a judgment or award against evasive counterparties in jurisdictions where enforcement is challenging or after trying to enforce it themselves for many years with little success. We help them recover what is rightfully theirs, having successfully enforced against difficult debtors in over one hundred jurisdictions.
Dispute finance lets you monetise judgments and awards and supplement resources
Instead of clients using their own funds and resources, they can outsource the cost and risk of pursuing enforcement to us. Omni Bridgeway provides finance, strategic know-how and project management to help clients monetise judgments and awards and our financing is 'non-recourse' – we are only paid from the actual recoveries of the claim. In some cases, we can purchase the judgment/award outright and give clients access to immediate capital. Being experienced litigators ourselves, clients can draw on our enforcement expertise to help avoid the drain on in-house legal teams' resources.
We do not let go when pursuing a recovery for clients
Our enforcement team is tenacious, focused on getting the highest possible amount in the shortest possible time. They work closely with the client, their in-house legal team and external legal counsel (or other professional adviser), sharing expertise and experience to develop a well-defined enforcement strategy.
While the client maintains ultimate oversight and decision making, it's at the enforcement stage where our team takes a more active role:
With enforcement, assets are key to maximising pressure on the counterparty. Omni Bridgeway's in-house asset tracing and intelligence team can find, freeze, and attach assets that belong to the counterparty, such as bank accounts, real estate, and recurring monetary flows.
Working closely with local lawyers where the assets are located, our team devises an appropriate enforcement strategy to create leverage on the counterparty and anticipate and overcome potential legal issues e.g. time bar issues or sovereign immunity issues.
Our team strategically oversees the enforcement activities of the local lawyers, ensuring they are coordinated to hit the counterparty with asset seizures as much as possible at the same time.
Once settlement discussions arise, the client, external counsel and Omni Bridgeway will all work together to get the best result.
Key takeaways to help make the seemingly unenforceable…enforceable
Dispute finance helps you pursue what is rightfully yours - getting a judgment or award is only the first step and pursuing enforcement can be just as costly and time-consuming. Dispute finance lets you outsource the cost and risk of enforcement actions to a funder such as Omni Bridgeway.
Experience counts in asset tracing, enforcement and recovery - particularly when assets might be widely dispersed through multiple locations and jurisdictions. An overarching strategy based on knowledge of the possibilities and restrictions in many different jurisdictions is key to maximising the chances of successful enforcement.
Keep the chances of collectability of a judgment/award in mind when initiating proceedings - take preliminary steps to maximise prospects of recoverability by:

checking the counterparty's asset position and continually monitor this during the proceedings until and judgment or award is obtained;
taking interim measures to preserve assets if available, possible, and necessary; and
ensuring the claim is clearly and unambiguously formulated and that all parties that you expect to or wish to be able to enforce against are joined in their proper legal capacity

Don't delay enforcement actions -

the judgment or award might already be time-barred in certain jurisdictions and the counterparty could have dissipated assets.

Speak to us sooner rather than later - if you or your company has a claim against a respondent that will very likely evade payment, get Omni Bridgeway involved early to advise as the proceedings unfold to avoid the dissipation of assets. Take conservatory measures to avoid enforcement issues when the judgment or award is eventually rendered.
Watch the webinar below: