Omni Bridgeway celebrates its anniversaries in North America with reflection, and predictions, on the state of the litigation finance industry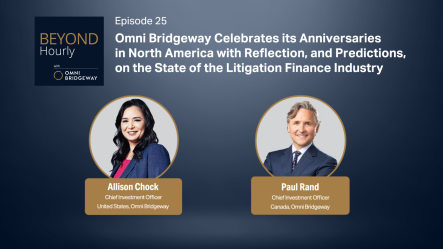 Omni Bridgeway is forging the path for the litigation finance industry in North America.

The company (formerly known as Bentham IMF) was one of just a handful of sophisticated funders pursuing litigation funding deals when it opened its first U.S. office in New York 10 years ago. And it was the first major funder to set up shop in Canada, launching its first office in Toronto five years ago.

To mark the milestone anniversaries in both countries, the latest episode of Omni Bridgeway's Beyond Hourly podcast covers the continuing evolution of the dispute finance industry in North America and features two key executives who oversee investment management and operations for Omni Bridgeway in the United States and Canada.

U.S. Chief Investment Officer Allison Chock is a veteran litigator who joined Omni Bridgeway in 2013. She now guides all decisions pertaining to the company's U.S. investment portfolio, which is currently the company's largest. Paul Rand is Chief Investment Officer for Omni Bridgeway in Canada, and brought to his role more than 15 years of experience as a litigator and transactional lawyer in private practice and in-house.

In this episode, you will find a discussion of:

Omni Bridgeway's development in the United States and how litigation finance deals have evolved—moving from a focus on David-versus-Goliath cases to sophisticated law firm and corporate portfolios comprised of large suites of affirmative litigation.

Omni Bridgeway's expansion in Canada and the factors that have made third-party funding a solid solution for law firms and businesses there.

How funding helps businesses address the expense of litigation, serve as a new capital source, and in Canada, how it helps address the issue of adverse costs.

Common challenges encountered in financing matters during the early days of this industry in the United States, and how those challenges have evolved over time.

Factors fueling the continuing growth of Omni Bridgeway and the U.S. litigation funding industry, and how dispute finance is playing an important role in assisting law firms and companies facing economic uncertainty.

The growth of Omni Bridgeway in Canada, including discussion of the increasing number of Canadian lawyers and firms embracing funding and the growth of products like portfolio financing in the market.

Important milestones in Omni Bridgeway's U.S. growth—including the addition of international arbitration, bankruptcy, patent litigation, insurance coverage, and securities litigation experts—and the benefits to those utilizing funding of having an experienced group of litigation professionals assessing their cases.

Continuing innovations in litigation funding—including claims purchasing and enforcement activities.

Potential developments to look for in the next 10 years, such as consolidation of funding companies, predictive technologies, and the potential abolition of rules prohibiting fee-splitting in the United States—a move that could open legal services up to further innovation.

Listen to the full podcast episode here.
To learn more about Omni Bridgeway's litigation funding capabilities, visit our Company Insights. While there, explore our recent podcasts, blog posts, and videos. Or contact us for a consultation to learn more about the ways we can help you pursue meritorious claims.