As a financial freight train looms, litigation finance can help GCs step off the tracks and into the conductor's seat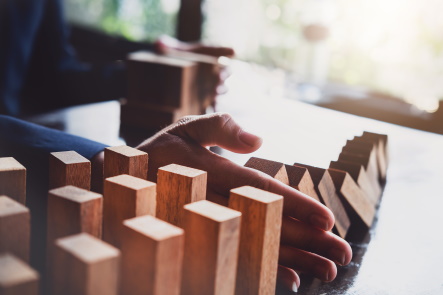 Author:

Senior Investment Manager and Legal Counsel - United States
---
A recently released survey of more than 1,000 global general counsel shows that in-house teams are facing an impending storm of greater legal risk, larger workloads, and shrinking legal department budgets. The issues may represent "an existential threat to the legal profession," Law360 recently wrote, or in the words of Harvard Law's David Wilkins, "a freight train coming down the tracks" toward legal departments.
Litigation finance can help general counsel step out of the way of this looming "freight train." Funding can assist law departments in reducing expenses, mitigating risk, and creating new sources of capital for a company. Moreover, the deep litigation experience that Omni Bridgeway brings to the table can help companies optimize the use of outside counsel and assist in efforts to improve legal sourcing, including technology that can drive greater efficiency.
By developing a strong relationship with a funder like Omni Bridgeway, general counsel can completely reconfigure litigation strategy for their companies—and convert litigation into a cash-generating asset that helps fund other modernization efforts. This, in turn, can help GCs prove to corporate leadership that their legal departments are far more than cost centers and are truly aligned to their companies' business goals.
Optimizing Outside Counsel
General counsel, the survey notes, are under intense pressure from their CEOs and boards to reduce risk while still bringing down costs. Legal department workloads are expected to increase by 25 percent during the next three years, and three-quarters of the survey respondents do not expect their budgets to keep pace. Significant cost reductions are expected that will require major changes in the way law departments operate.
Outside counsel expenses will be a key target. Thus far, however, efforts to reduce this line item have proven difficult for many GCs. As the survey notes, the overwhelming majority of GCs are dissatisfied with their current outside counsel management efforts. Of the GCs surveyed, 83 percent said they have too many providers to manage, and nearly the same number said they don't have the resources to effectively manage their existing providers.

Communication between in-house and outside counsel can be rocky as well. Guidelines put in place for managing outside counsel are not detailed enough, the GCs reported, and 85 percent said providers don't follow the guidelines that have been put in place. Lack of optimization is a missed opportunity for GCs, according to the survey, because "optimizing the use of outside counsel provides law departments with the opportunity to shift cost savings to other areas."

An experienced legal finance company like Omni Bridgeway can assist with this process and liaise with outside counsel about expense-related issues. One of the most substantial benefits of a litigation financing relationship is the expertise that top funding companies can bring to the table. Omni Bridgeway, for instance, is comprised of a team of highly experienced professionals who have personally litigated and arbitrated complex cases and understand how to value claims and assess their chances for yielding positive outcomes. Moreover, our funding team looks at hundreds of legal disputes each year in the US alone (and thousands of matters each year globally). This gives our investment professionals a uniquely broad perspective into how best to manage legal disputes, what is reasonable and what is not, in different case types, fora, and geographic regions.

Because funders are making an investment in litigation and are hoping to achieve a strong financial return, it's in their best interest to ensure that cases are efficiently managed. At Omni Bridgeway, we monitor the expenses in a case and can work with outside counsel on expense-related issues. Typically, not only does Omni Bridgeway cover a portion of the fees paid to outside counsel with the lawyers taking on the remainder of the risk (thus removing them from the balance sheet), but because of our network and litigation expertise, we can help negotiate case budgets and spending caps.

Litigation funding also can allow counsel to reduce expenses without sacrificing the quality of their representation. Through funding, elite firms can offer hybrid contingency arrangements that significantly reduce the company's expenses and allow it to redirect capital back into operations or growth.

Improved Legal Sourcing
While cost control is critical, "it isn't the only goal," the survey said. GCs also face demands to enable growth, deliver faster contracting, provide better data, and transform risk management, according to the survey conducted by EY Law and the Harvard Law School Center on the Legal Profession.

Here again, litigation funding can serve as a critical ally in implementing change—particularly where legal sourcing is concerned. To optimize potential litigation recoveries, at Omni Bridgeway we routinely help claimants identify outstanding counsel for their cases (if desired), and can work closely with a claimant's existing counsel to maximize legal budgets. Because of our expertise in litigation and our connections throughout the legal community, we can help companies pinpoint efficient processes and technology and identify experts and other resources to magnify value.

Funding received by a company may also be used as working capital to finance process and technology improvements. This can be achieved by creating a curated portfolio of plaintiffs-side claims that have a strong chance for a substantial recovery. With portfolio funding, a company has the flexibility to access capital to pay legal expenses or finance technology to improve their efficiency .
Creating revenue, reducing risk
From an income statement perspective, pursuing litigation claims typically creates a drag on profits. GAAP accounting requires that litigation costs are booked as an expense in the period in which they are incurred. However, potential future litigation or arbitration recoveries—no matter how significant or likely they may be—cannot be treated as an asset on the company's balance sheet. This is unlike when a company invests in fixed assets, like computers, cars, and office buildings, all of which can be capitalized, not expensed.
When a recovery does occur in a case, it is typically a one-off revenue event, and does not factor into a company's recurring revenue. Thus, an analyst, investor or potential purchaser of a company funding its own litigation may assign the company a lower enterprise value than it deserves. With litigation funding, however, a substantial portion of legal fees and other case costs are covered by the funder. As a result, the company shows higher net income, lower overall expenses, and a greater cash position—all else being equal.
A company can also realize further benefits when utilizing funding via a portfolio arrangement. Working side-by-side with a company to examine its litigation portfolio, a funder can help curate a portfolio of cases that can generate a steady stream of income used to fund legal department expenses and other corporate priorities.
Non-recourse dispute finance allows companies to pursue meritorious cases that are likely to produce a successful recovery. In return, the funder receives a return on its investment only if the litigation is successful. If the company loses its case on the merits, it is not obligated to repay the funder—thus removing a large portion of the financial risk a company may face from litigation.

As the "freight train" of change bears down on the legal profession, litigation funders can serve as critical partners for general counsel looking to drive transformation. To learn more about how Omni Bridgeway can help, visit our Company Insights. While there, explore our recent podcasts, blog posts, and videos. Or contact us for a consultation to learn more about the ways we can help you pursue meritorious claims.