How a strategic approach using litigation finance can help plaintiffs come out ahead against a bankrupt defendant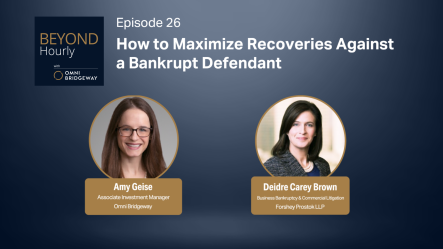 A defendant's bankruptcy filing need not spell doom for a plaintiff's case. In fact, bankruptcy court is an attractive forum for plaintiffs in many ways.

For example, bankruptcy courts routinely resolve cases quickly and settlements are commonplace—often spurred on by bankruptcy judges who encourage efficient resolutions. (A sitting bankruptcy judge may even agree to mediate a case.) The bankruptcy process also provides real insight into a debtor-defendant's financial ability to satisfy a judgment. Once a judgment or settlement has been obtained, ongoing court supervision helps ensure that the defendant complies, thus helping alleviate potential enforcement headaches.

These elements can also make a case involving a bankrupt defendant attractive to a litigation funder and allow a plaintiff to create a litigation strategy that lowers its out-of-pocket costs, reduces risk, and provides access to the best possible counsel to navigate the bankruptcy process.

In the latest episode of Omni Bridgeway's Beyond Hourly podcast, Amy Geise, an Associate Investment Manager and Legal Counsel who helps steer Omni Bridgeway's bankruptcy and insolvency initiative, spoke with Deirdre Carey Brown about plaintiffs' options when pursuing a case against a bankrupt defendant. Brown is a partner in the Houston office of Forshey Prostok, LLP, and specializes in bankruptcy, business reorganizations and workouts, creditor's rights, construction, and commercial litigation in the state and federal courts.

In the podcast they discuss:

How the role of bankruptcy counsel intersects with pre-bankruptcy litigation counsel.
Options available to plaintiffs once their litigation has been stayed as the result of a bankruptcy, including attempting to lift the stay, removing cases to bankruptcy court, and severing non-debtors.
The value of bankruptcy discovery, including Rule 2004 examinations, in helping a plaintiff assess the collectability of a judgment.
The attractiveness of the bankruptcy forum as a venue for resolving cases, one that can promote faster and lower-cost settlements.
Bankruptcy settlement procedures under Rule 9019.
The additional protection often afforded plaintiffs by having a settlement blessed by a bankruptcy court.
How plaintiffs should monitor a debtor-defendant's bankruptcy case to ensure that the process will not adversely affect their rights.
The critical importance of plaintiffs' supplementing a litigation team with experienced bankruptcy counsel.
The role of litigation financing—particularly funding from highly experienced and ethical funders—in helping plaintiffs hire the right professionals for their cases and maximize potential recoveries in the bankruptcy context.

To learn more about Omni Bridgeway's litigation funding capabilities, visit our Company Insights. While there, explore our recent podcasts, blog posts, and videos. Or contact us for a consultation to learn more about the ways we can help you pursue meritorious claims.