The In-House View -- More than a Lever: Partnering Litigation Finance with Legal Operations Divisions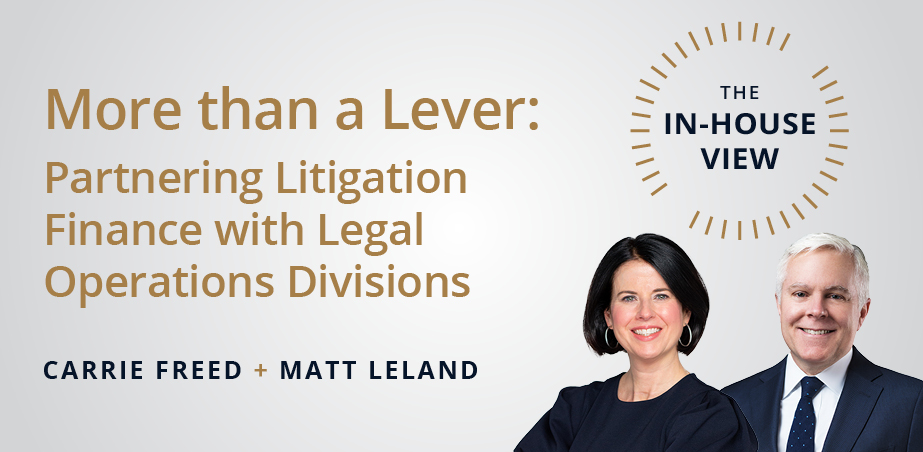 Authors:

Investment Manager and Legal Counsel - United States
Investment Manager and Legal Counsel - United States
---
'The In-House View' is a series by former in-house counsel, Carrie Freed, and commercial litigator, Matt Leland, discussing strategies for how legal departments can leverage litigation finance to create budget certainty, generate revenue, and manage litigation risk.
Legal Operations, or colloquially "Legal Ops," is an increasingly prominent and innovative division in many companies, helping to improve management of corporate legal departments. At its core, Legal Ops functions as a specialized procurement department for legal services and acts as a liaison among corporate finance personnel, in-house lawyers, and outside legal service providers. If managed effectively, Legal Ops can ensure a return on a corporation's investment in legal services, whether that is earned through reduced legal fees and costs, budget predictability, or increased efficiency (both internally and externally).
This specialized division utilizes a variety of levers for cost-management, including: preferred legal panels;1 direct contracting with legal technology vendors to achieve cost scaling; formal processes to ensure rate increases are justified and minimal; and data analytics to better predict and control legal spending. Legal Ops has made significant strides in improving efficiency and reducing costs for corporate legal departments. However, as legal rates and costs continue to rise in today's inflationary environment, these traditional levers garner fewer opportunities for savings.
Enter litigation funding – a commercial solution to rising legal expenses that can yield significantly higher cost savings than these other levers combined. Commercial litigation funders invest capital in corporations or their outside counsel to support affirmative litigation. This capital is almost exclusively deployed on a non-recourse basis – if the litigation is successful, the funder receives a return based on the recovery in a case or portfolio of cases. If unsuccessful, the funder receives nothing from the corporation.
Given this dynamic, reputable funders employ a rigorous due diligence process to ensure that the litigation has a strong likelihood of success. This robust process provides the ancillary benefit of assisting the company with its litigation risk management.
The obvious benefit of arranging for a third party to pay expensive lawyers and experts for a reasonable share of the upside (if any) is the impact to the company's bottom line. Partnering with a funder also provides the advantage of a second set of experienced eyes to offer a perspective on claims that may lack merit, as well as strengthen and streamline claims that already appear strong.
Litigation funding arrangements are useful to Legal Ops for three fundamental reasons.
First, litigation funding is well-suited for commercial litigation, including cases involving intellectual property, antitrust, breach of contract, and other business tort claims.
For example, consider a corporation that believes it is losing market share to a competitor that is infringing its patents. Patent litigation is notoriously expensive both in terms of legal fees and expert witness costs, and Legal Ops departments are responsible for managing such claims in a cost-effective manner. Traditionally, Legal Ops could help control costs by selecting an approved law firm provider from its panel, which could offer the corporation a discount on its lawyers' hourly rate -- perhaps as high as 20-30%. Legal Ops could also ensure the selected law firm abides by its other cost control processes like limitations on billing for research and caps on allowable expenses.
Ultimately, these traditional levers can only achieve a fraction of the cost savings of an appropriate litigation funding arrangement. These partnerships remove most or all of the litigation expenses from the corporation's balance sheet and shift the financial, outcome, and duration risk to the funder. By removing cost as the driving factor for firm selection, Legal Ops can focus instead on providing non-pecuniary value to a corporate legal department by prioritizing the retention of counsel who have the right expertise and experience and who can collaboratively partner with the business to maximize the probability of a favorable resolution.
Second, litigation funding allows Legal Ops to provide greater predictability in the budgeting of legal spend, which in turn assists the law department in providing accurate forecasts for the corporate budgeting process. The funding arrangement will specify the allocation of financial risk among the funder, corporation, and law firm, and will be based on a clear, detailed, and routinely capped budget from outside counsel.
Third, with a litigation funder paying a substantial portion of the bills, Legal Ops can free in-house counsel to focus on what they do best – setting and implementing the strategy for litigation, forging stronger partnerships with outside counsel, and ensuring the corporation's resources are employed efficiently.
While Legal Ops departments are premised on the idea that corporate law departments manage and mitigate risk, they also serve as partners in delivering innovative solutions to evolving business challenges. Litigation funding enables Legal Ops to accomplish this mandate in a way that provides significant cost savings beyond even the most advanced Legal Ops lever.
[1] See "The In-House View: Enhancing Preferred Legal Panels with Litigation Funding," Omni Bridgeway, 16 October 2023