Building a New Law Firm in Times of Uncertainty – Part II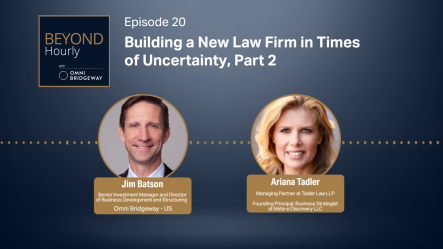 COVID-19 has changed the practice of law. Lawyers, judges, and staff have all been forced to quickly adapt to technology and conduct business in ways that would have seemed improbable just a year ago.

As one lawyer writing for the American Bar Association noted in a recent issue of its criminal justice publication, "Rather than turning back the clock, our profession has the tools necessary to come out of this stronger than ever if prudent decisions are made. But we must be realistic about the challenge that lies ahead of us, and we must be sensitive to the threats to our culture and diversity."

In many ways, it's a sentiment that sums up the approach of Ariana Tadler, a veteran New York-based litigator who in 2019 founded Tadler Law LLP. One of the nation's leading authorities on electronic discovery and a co-founding principal of Meta-e Discovery LLP, a data hosting, management and consulting company, Tadler is navigating the COVID crisis while building a new firm that celebrates inclusion and diversity.

In the latest episode of the Beyond Hourly podcast, Jim Batson, a Senior Investment Manager, Director of Business Development and Structuring—U.S., and head of Omni Bridgeway's New York office, continues his discussion with Tadler. In this second episode in the two-part series, they focus on the issues involved in building a new firm during the age of COVID and the growing opportunities and advantages available to women-led enterprises.

They discuss:

Tadler's role as an advocate for consumers and investors against corporate fraud.
How COVID-19 has changed the legal practice.
The steps lawyers and judges are taking to keep cases and the courts moving during the COVID crisis.
The advantages clients garner from a women-led firm and how diversity and inclusion can improve empathy and lawyering at a firm.
Advice to women about building successful careers in the law.
Click here to listen to this episode or read the transcript.