Funding insolvency claims in Asia-Pacific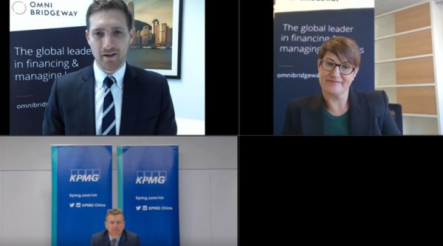 Authors:

Managing Director and Co-Chief Investment Officer - APAC
Investment Manager - Australia
---
Across the Asia-Pacific region, insolvency practitioners are anticipating a significant increase in insolvencies in 2021 and beyond as temporary government relief is expected to end in many jurisdictions. Many businesses are taking the opportunity to restructure debts and also seeking to conserve cash and find new ways to access liquidity. Third-party dispute finance is one potential source of liquidity.
In this recent webinar panel discussion hosted by Lexology, Omni Bridgeway and an expert panel shared their insights and answered some of the most critical questions that companies, and lawyers have about using dispute finance for insolvency-related claims across Asia-Pacific.
Omni Bridgeway's Chief Investment Officer – Asia Tom Glasgow moderated the panel and was joined by Heather Collins Investment Manager at Omni Bridgeway, Patrick Cowley Global Co-Head, Restructuring Services at KPMG China and David Walter - Financial Restructuring and Insolvency Partner at Allen & Overy.
A strange situation in 2020
Patrick and David discussed how 2020 had not seen the expected rise in insolvency & restructurings, thanks to government relief measures across APAC during the COVID pandemic. David said that Australia, Japan and Singapore are amongst the top ten nations in the world which had seen the biggest spend per capita by government on economic incentives during the pandemic. Additionally, in Australia insolvencies were at a record low, against a backdrop of its highest unemployment and lowest economic growth in decades – which all makes for a strange situation.
Litigation finance: a terrific opportunity for businesses in 2021
However, with a COVID vaccine on the horizon, governments may start to step back from relief measures in 2021, with Patrick pointing out that stress is already building in the system and weak and vulnerable businesses without insolvency trading schemes could be run into the ground. By the time an Insolvency Practitioner (IP) is appointed there is little finance to be able to carry out the required actions, giving rise to situations where IPs will seek funding.
David suggested that when IPs are looking at a litigation book of claims, litigation finance could offer a terrific opportunity for businesses in 2021 as it provides a limited recourse line of funding that can cover a big expense item - legal fees.
Involving a funder
When asked at what point a third party funder such as Omni Bridgeway plays a role for IPs and distressed companies, Heather said the funder should be involved as quickly as possible and be the third call you make after the bank and lawyer. While this is the preferred action, Omni Bridgeway can be involved at any point in the proceedings. However, she added that the funder's role is to assist and not to come between the obligations of an IP and the creditors.
Heather advised an IP can maximise chances of securing funding if a case has good merits and strong recoverability, but she is regularly creative about the funding strategies she offers IPs in the Australian market e.g. funding part of the claim, co-funding or just funding disbursements or adverse cost cover (particularly for smaller cases). This means all parties are on-risk and an early settlement could be reached as the other side knows there's a funder involved.
Tom added that while lawyers can't work on contingencies in Hong Kong and Singapore, there is some appetite from IPs to consider these different funding strategies. It creates a situation where everyone has a vested interest in the claim, which can be helpful.
Watch the full webinar below: