87% of insolvency practitioners and financial institutions would consider dispute finance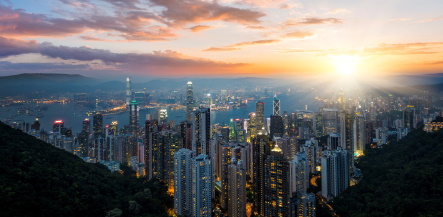 Once you learn about dispute finance, it's hard to say no. This was the view expressed by Hong Kong and Singapore insolvency practitioners and financial institutions who recently learned the what, why and how of third party finance from industry leader and Omni Bridgeway's very own Ruth Stackpool-Moore.
Once they grasped the concept of third party dispute finance, they found it irresistible - especially in the current economic climate. After initially revealing limited knowledge of third party dispute finance at the commencement of a Simmons & Simmons webinar, 87% of the audience confidently expressed their intention to consider using dispute finance in the future, according to a poll taken at the conclusion of the webinar.
The webinar discussion, hosted by law firm Simmons & Simmons on the use of litigation funding by insolvency practitioners and banks for claims as part of its webinar series on restructuring and insolvencies in Asia, was facilitated by Simmons and Simmons Dispute Resolution Partner Amanda Lees in Singapore, with Managing Associate Silvia Yuen in Hong Kong also speaking on the panel. Ruth shared her insights into the types of funded claims she typically sees in the insolvency space, what Omni Bridgeway looks at when it is assessing a case for funding as well as some of the practicalities of the day to day management of a case when a funder is involved.
With third party dispute finance a relatively recent addition to the dispute resolution landscape in Singapore and Hong Kong, and Ruth being among the first to establish dispute funding in Asia, the audience was no doubt eager to learn more from one of the industry's regional pioneers.
After Amanda set the scene, with a brief overview and history of litigation funding, Ruth covered some of the more the practical aspects of funding in the insolvency context: explaining to the audience how it works, the differences to other forms of funding – being non-recourse – and the benefits it can bring to companies in liquidation and IPs when pursuing an insolvency claim. She also ran through the types of things Omni Bridgeway considers when it is looking at a case for funding, some of the practicalities of the day to day management of a case when a funder is involved as well as the added value Omni Bridgeway brings to the cases it funds, not just in providing the capital, but through the deep expertise and first-hand experience its investment managers bring to a case, including the ability to identify and quantify potential avenues of recovery.
The panel had clearly won over the audience by the end of webinar, with poll results at the conclusion revealing 87% would consider third party finance in the current economic situation.
Find out why insolvency practitioners and financial institutions in Asia were so taken with dispute finance by watching the full Simmons & Simmons webinar here:
The use of litigation funding by insolvency practitioners / banks for claims
With an anticipated increase in insolvencies by the end of 2020, businesses across Asia are looking at how they can conserve cash and access alternate sources of liquidity. Third Party finance can offer a means to do both. In this podcast, Omni Bridgeway's Tom Glasgow and insolvency practitioner Luke Furler discuss dispute finance for insolvency-related claims in Singapore and more widely within the Asia-Pacific region. Listen here