No more tyranny of distance in a virtual world – international arbitration in Australia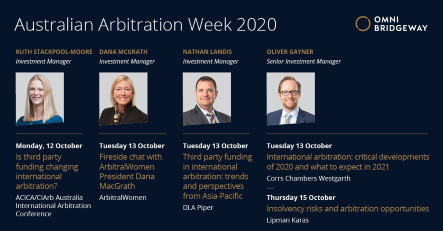 Key takeaways from Australian Arbitration Week 2020
Omni Bridgeway was delighted to participate in a successful and stimulating Australian Arbitration Week (AAW2020), held in mid-October 2020. Given the current COVID-19 restrictions, AAW2020 was offered virtually and open to registrants from around the globe. It included speakers from Australia and abroad, including Omni Bridgeway arbitration specialists located in Australia, Asia and the US.
AAW2020 was presented by the Australian Centre for International Commercial Arbitration (ACICA). It included Australia's premier international arbitration event, the 2020 International Arbitration Conference (IA Conference), hosted by ACICA and the Chartered Institute of Arbitrators Australia (CIArb Australia). This year, the IA Conference, held on the first day of AAW2020, was called Bridging the Distance: Arbitration in the New Normal.
The IA Conference showcased how Australia is becoming a key destination for funded international arbitrations, especially for the Asia region and particularly in the 'new normal' with technology helping to eliminate the 'tyranny of distance'. To advance this theme, the IA Conference included sessions on advocacy in the virtual environment and technology as an enabler in international arbitration, and there were three sessions during the week which addressed the interplay with funding.
Is third party funding changing international arbitration?
The IA Conference featured a panel discussion called Is third party funding changing international arbitration? moderated by Hong Kong barrister, international arbitrator and accredited mediator, Kim Rooney. Kim is also a member of the ICC Court of International Arbitration. The panel included Omni Bridgeway investment manager, Ruth Stackpool-Moore, a pioneer of third party funding in Asia, based in Singapore.
The session considered whether third party funding is changing international arbitration through the prism of the varying legal and regulatory frameworks in place in various jurisdictions. In brief, the panel discussed the divergent approaches taken in relation to funding in various jurisdictions which are due to differences in common law and civil law legal traditions, as well as the fundamental reasons underpinning each jurisdiction's embracing of funding in arbitration. In some jurisdictions, this has been primarily to enable wider access to justice, for example in Australia and the UK, and in other jurisdictions, for example in Hong Kong and Singapore, a significant motivation has also been to provide a competitive edge and become the dispute resolution hub for the region.
These differences have resulted in an inequality of arms in terms of parties' access to third party funding. This, in turn, has affected how and to what extent third party funding is changing arbitration itself.
The panel also explored three current issues which are particularly topical for the use of funding in arbitration:
Disclosure and conflicts of interest. It was noted that the trend is for increasing regulation of the issue of disclosure, in favour of the involvement and identity of the funder being disclosed, but not the terms of the funding agreement itself. In respect of conflicts of interest, the panel concluded that greater uniformity in relation to disclosure helps to prevent conflicts issues from arising, or at least brings them to light early in the proceedings.
Costs. The panel discussed the ability to recover funding costs and the impact of third party funding on security for costs orders, as well as consequences for adverse costs orders.
Relationship between funding and contingency and conditional fee arrangements. Although contingency and conditional fee arrangements are generally not permitted in jurisdictions in the Asia-Pacific, the panel discussed the funding of law firm portfolios, when these fee arrangements are available, and how it can provide another avenue for risk sharing, as well as how these types of fee arrangements align the interests of the lawyers with the funded party and the funder in trying to achieve a maximum realistic return.
Transparency of funding in international arbitration
The issue of transparency and disclosure of funding arrangements also featured in a session hosted by Corrs Chambers Westgarth, called International arbitration: critical developments of 2020 and what to expect in 2021. Omni Bridgeway senior investment manager, Oliver Gayner, participated on the panel and discussed the proposed new ICSID and ACICA Rules which include draft provisions concerning disclosure of the existence of third party funding, and the identity of the funder. The new ACICA Rule 53 is a particular innovation, since it defines the recoverable "legal and other" costs of arbitration as including costs of obtaining third party funding. This is consistent with the interpretation of the ICC Rules upheld by English High Court in Essar Oilfields v Norscot Rig Management [2016] EWHC 2361, and should help encourage parties to select the ACICA Rules and an Australian seat for arbitrations which are likely to require funding, including in sectors such as energy, natural resources, construction and infrastructure where Australian practitioners have deep expertise.
Oliver also predicted that there would be greater transparency in the third party funding industry in the future, for example, through the new global industry body, ILFA (International Legal Finance Association.
Insolvency risks and arbitration opportunities
Oliver Gayner also participated in a panel hosted by Lipman Karas lawyers called Insolvency risks and arbitration opportunities. The panel included insolvency, arbitration and funding specialists and examined the opportunities presented for the arbitration of disputes arising in an insolvency context, expected to increase in light of Covid-19 and recent trade tensions.
Oliver provided some observations on the economic impact of the pandemic in Australia, which has seen a counterintuitive decrease in insolvency appointments during 2019-2020 (largely as a result of the Government's safe harbour measures). However, commentators such as panelist Chris Hill from PwC have observed that when the safe harbours come to an end (currently 31 December 2020) there is expected to be a significant rise in liquidations and associated disputes.
On the other hand, where Omni Bridgeway is seeing a profound change in the solvent corporate market - choosing to use funding and insurance, not out of necessity, but because they see non-recourse finance as a very useful risk management tool. Enquiries in this sector are up substantially year on year, which reflects the impact of Covid-19 on corporate budgets and liquidity. Looking forwards, we expect these types of claims – including contractual breaches, enforcement of security, misconduct claims against directors - to manifest over the short to medium term.
Finally, Oliver also discussed enforcement issues that can arise against award debtors and the buying and selling awards by funders.
Third party funding in international arbitration – trends and perspectives from Asia-Pacific
In a sign of its growing importance, international law firm DLA Piper also hosted a panel discussion on third party funding in international arbitration. Omni Bridgeway investment manager, Nathan Landis, participated in this panel, called Third party funding in international arbitration – trends and perspectives from Asia-Pacific. The panel session, moderated by DLA Piper partner and co-head of international arbitration APAC, Gitanjali Bajaj and solicitor, Erin Goiurlay, provided a lively and insightful discussion on the increasing use of third party funding in international arbitration and its future in the Asia-Pacific region.
Nathan noted that the relaxation of restrictions on funding arbitrations in Singapore and Hong Kong had led to a greater appreciation for the benefits that funding can bring. He also emphasised that clients do not just seek funding as a cash preservation tool – he is increasingly seeing clients who are seeking funding for the strategic insights that an experienced funder can give, particularly if difficult issues of enforcing awards are involved.
ArbitralWomen – diversity initiatives during the pandemic
AAW2020 also included a special fireside chat with current ArbitralWomen President, Dana MacGrath. Dana is an investment manager and legal counsel with Omni Bridgeway, based in New York, and is responsible for leading the company's investments in international arbitration matters.
Dana chatted with Erika Williams of McCullough Robertson, a director of ArbitralWomen, based in Brisbane. Dana and Erika discussed how ArbitralWomen continued its work during the pandemic, recent online diversity initiatives, statistics on gender diversity, and steps being taken to further progress diversity.
During the pandemic shutdown, ArbitralWomen focused on publishing news and sharing the professional achievements and activities of its members, as well as new initiatives that emerged, including ArbitralWomen Connect, Mute Off Thursdays, and a group known as the Awesome Asia-Pacific Arbitration Ladies. Dana and Erika also discussed institutional statistics in the Cross-Institutional Report on Gender Diversity recently released by ICCA and forthcoming statistics from ACICA on Australia.
Dana noted that corporates are key to further diversity. She explained the Equal Representation in Arbitration Pledge - a global call to action to address the under-representation of women in arbitration drawn up by a coalition of leading members from the international arbitration community (of which Omni Bridgeway is a proud signatory and supporter)– and the Pledge Corporate Counsel Subcommittee on which Dana sits has drafted Corporate Guidelines to assist corporates. The guidelines will be issued in late October 2020.
Finally, Dana also discussed the persisting issue of 'Manels' and the joint organisational campaign led by ArbitralWomen that " Diversity is Equally Important for Virtual Events."