Interview with The Texas Lawbook: The state of litigation finance in Texas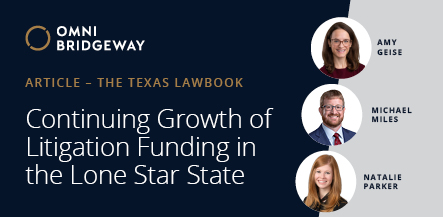 In The Texas Lawbook article, "Omni Bridgeway's Texas Team on the Continuing Growth of Litigation Funding in the Lone Star State," head of the Houston office, Amy Geise, along with recent Houston and Dallas hires Michael W. Miles and Natalie Parker, discuss the transition to the litigation finance industry from law firm and in-house positions, the acceptance and use of funding, and emerging trends in the Texas market.
Amy observes how she has seen a noticeable increase in demand for litigation funding in the past year as compared to just five years ago. In particular, the team has seen a maturation in the local market as more law firms and corporates are viewing legal finance as a tool to manage litigation risk and a means to pursue profitable cases without making a deep impact on the bottom line.
To read the full interview, click here.
Learn more about legal finance or for more information about how we can assist claimants in a variety of commercial disputes, visit our Company Insights. Or contact us for a consultation to learn about the ways Omni Bridgeway can help unlock the value of your meritorious claims.