A prevailing party to a lawsuit does not lose its entitlement to a statutory fee award because it uses third party financing to pursue its claim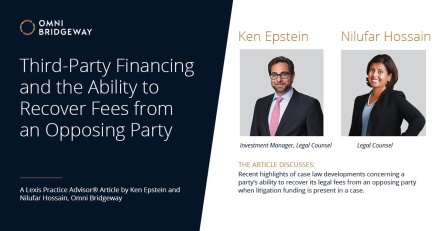 Litigation finance has gone mainstream in the U.S. While this is good news for plaintiffs and law firms seeking to pursue strong claims against defendants with superior resources (including the government), it has opened-up alleyways for creative lawyers to challenge longstanding legal principles.
One example of this is defense counsels' attempts to seek discovery of litigation financing agreements from plaintiffs. The aim is to distract the courts from the key issues in cases and to delay proceedings. Thankfully, courts routinely reject this on relevance or privilege grounds.
Another example is lawyers' seeking to deprive a prevailing party of their statutory fee awards on the basis that receiving third-party financing purportedly affected their standing in the case. In a recent Lexis Practice Advisor® Article, "Third-Party Financing and the Ability to Recover Fees from an Opposing Party", Omni Bridgeway's Ken Epstein and Nilufar Hossain debunk this legal myth with support from recent case law.
For an in-depth analysis of the cases dismissing the standing defense, as well as for a discussion of case law in support of a fee award where the claimant does not directly pay legal fees, see here.