Judgment Enforcement and Litigation Finance: A Growing Trend in International Arbitration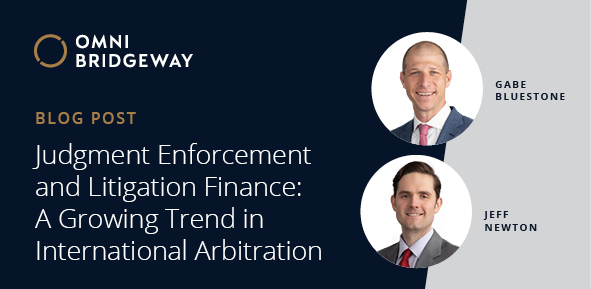 Authors:

Investment Manager and Legal Counsel - United States
Investment Manager and Legal Counsel - United States
---
The recent Law360 article, 4 International Arbitration Trends To Watch In 2023, predicted that litigation funders may be called upon more frequently to participate in enforcement campaigns. Given Omni Bridgeway's longstanding track record in assisting and funding judgment enforcement campaigns, you may not be surprised to learn that we agree. Today's challenging economic conditions and rising interest rates will likely cause more debtors to resist or outright refuse payment in 2023. In this environment, an enforcement team is the ideal partner for a judgment or award creditor seeking to collect—or the savvy plaintiff who anticipates a collection risk at any stage of a dispute.
Indeed, incorporating a judgment or arbitral award enforcement team as part of the litigation strategy makes good business sense no matter the stage of the litigation. At the outset of a case, it's about choosing the right defendant, claims, and forum to maximize the chance not only that liability will be found, but that the finding can be translated into real money in the bank.
If a case is already in progress, enforcement planning can inform discovery requests, amendments to claims or pleadings, or interim/conservatory measures to ensure that an eventual judgment in the plaintiff's favor isn't rendered a meaningless piece of paper. And if a judgment or award is entered and payment is not forthcoming (even after years of the plaintiff's investment in the merits phase of a case), specialized enforcement funding can "stop the bleeding" from the plaintiff's bottom line while necessary enforcement proceedings are pursued. And if the debtor eventually seeks protection in bankruptcy, insolvency funding can help claimants weather those proceedings as well.
Simply put, clients and funders alike should have collectability at the forefront of their mind when initiating and funding a claim. Knowing that their funder has the financial ability and knowhow to pursue a potentially unwilling judgment debtor gives clients a clearer path toward a successful outcome, and most important, peace of mind.
Learn more about legal finance or for information about how we can assist claimants in a variety of commercial disputes, visit our Company Insights and contact us for a consultation to learn about the ways Omni Bridgeway can help unlock the value of your meritorious claims.